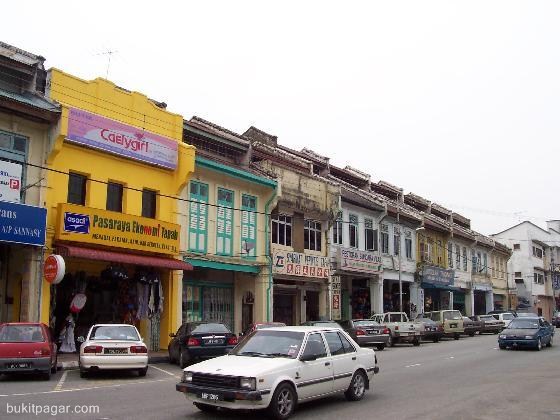 Tapah
Popular Stop on the way to the Cameron Highlands
On the way from Tapah to the Cameron Highlands it is impossible to overlook the Iskandar Fall. Far before the fall is reached, the first parked cars and stalls appear.
The falls are visible from the road, and there is a big sign, welcoming the visitor to the Hutan Lipur Lata Iskandar. Souvenir shops, food stalls, don't expect solitude here.

At the bottom of the cascades a small bridge permits to cross the stream.
Wading pools are a good place for families to bath their children, organise picknicks and enjoy their holiday trip in all possible ways
Cemented steps to the right side of the fall lead to the top of the cascade
At the top of the main cascade the cemented steps end. There is a second cascade here, which (of course) is more quiet than the lower one.
It is possible to scramble up a vague trail to the right of this cascade.
Be careful, the rocks can be slippery

From the top of the second cascade, one can look down and see the swirling water cascading down. Deep below bathers are enjoying the cool water.
Then, the final suprise, a small real waterfall with an almost private swimming pool.
A nice reward for the scrambling!
After the removal of the shops near the fall, the view of the fall is much better
This off course is the waterfall
It is over 30 meters tall, a near vertical cascade, preceded by another 2 more cascades on top.
On top of the large cascade, the waterfall starts as a spillover from a man made barricade.