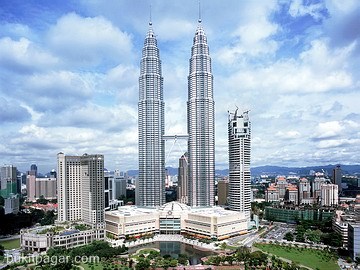 A transit passenger must have more than six hours before they could leave the airport. Some of the places that you could visit are:

a) PUTRAJAYA - located 25 kilometres south of Kuala Lumpur and 20 kilometres from Kuala Lumpur International Airport . The City of Putrajaya is also known as Malaysia's first Intelligent Garden City and will be host to many government and business facilities. Lush greenery, botanical gardens and parks are spread across landscapes enhanced by large bodies of water and wetlands.

Getting there : Currently, the KLIA Transit travels to Putrajaya, every 30 minutes. The first train departs KLIA (train station is at Lower Ground Floor) at 05:33am and leaves Putrajaya for KLIA at 00:20am the next day.

b) PETRONAS TWIN TOWERS - The Petronas Twin Towers are not anymore the world's tallest buildings. Standing at 451.9 metres, they were designed by renowed architect Cesar Pelli, and sit amidst a 50-hectare landscape park. The sky bridge joining the two towers at the 41st floor is open to public between 10am to 12.45pm and 3pm to 4.45pm daily, except Mondays. Tickets are available on a first - come - first - serve basis from the ticket counter which opens from 8.30am to 5pm.
Getting there : KLIA (KLIA Express) to KL Sentral / KL Sentral (PUTRA ) to KLCC station

c) CENTRAL MARKET - Located within the vicinity of Chinatown is a popular tourist attraction for art and crafts, restaurants and cultural performance.

Getting there : KLIA (KLIA Express) to KL Sentral / KL Sentral (PUTRA LRT) to Pasar Seni station
d) KUALA LUMPUR CRAFT CULTURAL COMPLEX - Conveniently located with in the Golden Triangle,
a museum, mall and education center. It also showcases the best Malaysian ethnic handicrafts, numerous craft making and workshops.

Getting there: KLIA (KLIA Express) to KL Sentral
....................KL Sentral by taxi to Kuala Lumpur Craft Cultural Complex

e) KL TOWER - The tallest tower in Southeast Asia and currently the fourth tallest tower in the
world at 421 metres, stands at the pinnacle of Bukit Nanas. The tower head houses a revolving restaurant and an observation platform that gives a bird's eye view of Kuala Lumpur.

Getting there: KLIA (KLIA Express) to KL Sentral
................... KL Sentral (PUTRA LRT) to Dang Wangi station - 15 minutes walking distance to
................... KL Tower Lobby

Website: KL Tower for more information on KL Tower
What are the various modes of transportations from KLIA to the city
From KLIA, one may take a taxi or limousine, the Express Rail Link (ERL), Airport Coaches and car hire. Coupon System is implemented for taxis and limousines. Airport Coaches also transfer passengers to the hotel. The followings are details with cost for one way transfer: -

Taxi to hotel city centre - approximately RM90.00

ERL to KL Central (Main station in the city) - RM35.00

Airport Coach - RM25.00
The need of an airport hotel.
A lot of passengers of Kuala Lumpur International Airport travel along to Sabah, Sarawak, Indonesia or even to Australia and New Zealand! It's still a long way to go.
Kuala Lumpur International Airport has two very good hotels. They are not expensive and they are very comfortable. After a long journey, guests can unwind with an aperitif or cocktail in the passe partout bar, or head for the leisure center for a sauna, steam bath, workout or dip in the indoor pool.
You don't have to stay at the departure hall. You can have a nice and pleasant rest in one of the airport hotels
Very good hotels at Kuala Lumpur International Airport to rest are:




The Pan Pacific Kuala Lumpur International Airport Hotel is a five-star deluxe airport hotel located adjacent to the new Kuala Lumpur International Airport in Sepang and within easy access to many Kuala Lumpur attractions. The Pan Pacific Kuala Lumpur International Airport Hotel is conveniently linked to Kuala Lumpur International Airport via a skybridge. Guests of Pan Pacific Kuala Lumpur International Airport Hotel will enjoy hotel accommodation that features the latest technology, an elegant ambience, exceptional service and warm Malaysian hospitality. Welcome to the Pan Pacific Kuala Lumpur International Airport Hotel, where you will find a stunning combination of excellent location, traditional hospitality and round-the-clock business, dining and fitness facilities

Informatie/reservering

Rooms from EUR 52 per night





Located less than five minutes from the Kuala Lumpur International Airport, the Concorde Inn Airport Hotel Kuala Lumpur offers comfortable accommodation with modern amenities and friendly service. Concorde Inn Airport Hotel Kuala Lumpur is a 263-room hotel comfortably furnished with modern amenities to make guests stays both pleasant and memorable. Banquet halls and meeting rooms are well equipped to cater to business clients seminar and banqueting needs. For leisure, guests may swim in the inviting pool or play a game of tennis. Dining and options include the Melting Pot Caf where delightful Local, Western and Japanese Cuisine are served. Guests may also chill out with live entertainment at the Crossroads Lounge.

nformatie/reservering

Rooms from EUR 30 per night