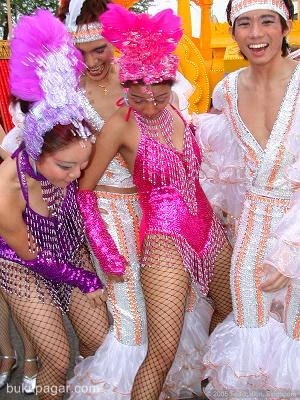 To the Chinese, the most important festival is Chinese New Year, which falls in either January or February.
It is ushered in with the lighting of fire crackers at midnight on the eve of the Chinese Lunar Calendar.
The Chingay Parade is an annual street parade held in Penang as part of Chinese New Year festivities, but it's also held in Johor Bahru (2006).
The Chingay celebration started in the 19th century. The event was recorded by a European rnissionary and left a vivid description of the 19th century Chingay. There was a 'Chinese decorated float' for which Penang became famous with its giant flags processions. A chingay flag is merely a giant triangular flag, between 25-40 feet in height, made of silk, where, on one side of the flag was fixed to a giant bamboo pole carried perpendicularly by a stalwart bearer with half-a-dozen others taking turn.?

The Padang (field) in Georgetown (Penang) is the venue for most of the island's important events, such as the Chingay Parade, during the Lunar New Year.
In Johor Bahru deities come together in the 150-year old "Rou Fuo Gu Miao" in Jalan Trus. That's the oldest temple in Johor Bahru. After coming together they are goinf for a 15-km parade around the city. Thousands of people in Johor Bharu from all walks of life, young and old alike, are lined up in the streets to watch and participate in this event, which starts in the evening and ends after midnight.

In Hokkien, Chingay (or Chin Gay) means real art. Initially, its performances were only confined to the birthday celebrations of Chinese deities.
The colourful spectacle of Chinese New Year is evident long before the day of celebration itself.
Eager crowds of shoppers can be seen searching for all kinds of seasonal delicacies: oranges for good luck, flowers and kumquat trees to beautify their homes. All debts must be settled and the house spotlessly cleaned before the new year begins.

On the evening of the New Year, family relationships are remembered with a special reunion dinner to usher in the New Year.
Younger members of the family visit their relatives, receiving red packets of lucky money (ang pows) while feasting and merrymaking.
The Chingay parade adds to the festive atmosphere with stilt walkers, lion and dragon dances, acrobats, and dozens of decorated floats taking to the streets amidst the clashing of cymbals and beating of gongs and drums.
Penang is the place to celebrate the Chinese New Year, but you can enjoy the Chingay Parade in Johor Bharu also.
Chingay has evolved to be the grandest street parade in Asia showcasing the rich, vibrant multi-cultural of Malaysia, and the exotic and exciting cultures from all over the world.
The parade features not only the best local and international performers but also many of Asia's most beautiful and spectacular floats.

Have a look at < Chinese New Year >