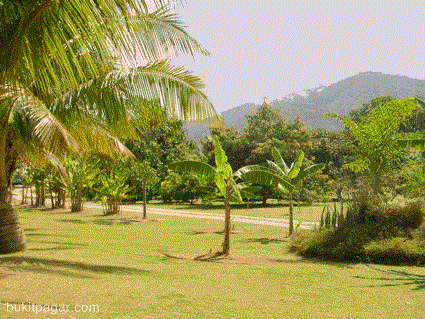 The Tropical "Fruitfarm" on Penang with a lot of tropical fruit..
Weather and climate
Malaysia's position in the equatorial zone guarantees a classic tropical climate with relative humidity levels usually around 90%. Weather is fairly hot and humid all year round (with the exception of the cooler climes of the central highlands) averaging 30 o C in the daytime, with short intense showers almost daily. Malaysia's climate is dominated by the effect of two monsoons or "rainy seasons", which affect different parts of Malaysia to varying degrees.
The north-east monsoon blows between October and March and from May to September Malaysia is affected by the south-west monsoon. Heavier rainfall is experienced in spring and autumn when the monsoon changes direction, however this increased rainfall should not spoil a visit to west coast Malaysia or the hill stations. Mornings are usually hot and sunny with showers in the afternoon.
Try to avoid east coast destinations and Island Malaysia between November and January. Otherwise, Malaysia can be enjoyed at any time of year as the weather is generally hot, sunny and fairly uniform; it's rare to have a day without showers and unusual to have a day without sunshine. Take light summer clothes, carry an umbrella and an extra warm sweater if visiting the hill stations.
Vaccinations
Food and waterborne diseases are the number one cause of illness in travelers. Travelers' diarrhea can be caused by viruses, bacteria, or parasites, which are found throughout the region and can contaminate food or water. Infections may cause diarrhea and vomiting (E. coli, Salmonella, cholera, and parasites), fever (typhoid fever and toxoplasmosis), or liver damage (hepatitis). Make sure your food and drinking water are safe. (See below.)

Malaria is a preventable infection that can be fatal if left untreated. Prevent infection by taking prescription antimalarial drugs and protecting yourself against mosquito bites (see below). Malaria risk in this region exists all year in some cities and all rural areas of these countries, except for Brunei Darussalam and Singapore. Most travelers to Southeast Asia at risk for malaria should take mefloquine to prevent malaria.

A certificate of yellow fever vaccination may be required for entry into certain of these countries if you are coming from a country in tropical South America or sub-Saharan Africa. (There is no risk for yellow fever in Southeast Asia.)

Dengue, filariasis, Japanese encephalitis, and plague are diseases carried by insects that also occur in this region. Protecting yourself against insect bites (see below) will help to prevent these diseases.

Do not swim in fresh water (except in well-chlorinated swimming pools) in certain areas of Cambodia, Indonesia, Laos, Philippines, and Thailand to avoid infection with schistosomiasis.

Because motor vehicle crashes are a leading cause of injury among travelers, walk and drive defensively. Avoid travel at night if possible and always use seat belts.

CDC Recommends the Following Vaccines (as Appropriate for Age):
See your doctor at least 4-6 weeks before your trip to allow time for shots to take effect.
Hepatitis A or immune globulin (IG).

Hepatitis B if you might be exposed to blood (for example, health-care workers), have sexual contact with the local population, stay longer than 6 months in the region, or be exposed through medical treatment.

Japanese encephalitis, only if you plan to visit rural areas for 4 weeks or more, except under special circumstances, such as a known outbreak of Japanese encephalitis.

Rabies, if you might be exposed to wild or domestic animals through your work or recreation.

Typhoid vaccination is particularly important because of the presence of S. typhi strains resistant to multiple antibiotics in this region.

As needed, booster doses for tetanus-diphtheria and measles, and a one-time dose of polio for adults. Hepatitis B vaccine is now recommended for all infants and for children ages 11-12 years who did not complete the series as infants.To Stay Healthy,

Do:

Wash hands often with soap and water.

Drink only bottled or boiled water, or carbonated (bubbly) drinks in cans or bottles. Avoid tap water, fountain drinks, and ice cubes. If this is not possible, make water safer by BOTH filtering through an "absolute 1-micron or less" filter AND adding iodine tablets to the filtered water. "Absolute 1-micron filters" are found in camping/outdoor supply stores.

Eat only thoroughly cooked food or fruits and vegetables you have peeled yourself. Remember: boil it, cook it, peel it, or forget it.

If you visit an area where there is risk for malaria, take your malaria prevention medication before, during, and after travel, as directed. (See your doctor for a prescription.)

Protect yourself from insects by remaining in well-screened areas, using repellents (applied sparingly at 4-hour intervals), and wearing long-sleeved shirts and long pants from dusk through dawn.

To prevent fungal and parasitic infections, keep feet clean and dry, and do not go barefoot.

Always use latex condoms to reduce the risk of HIV and other sexually transmitted diseases.

To Avoid Getting Sick:

Don't eat food purchased from street vendors.

Don't drink beverages with ice.

Don't eat dairy products unless you know they have been pasteurized.

Don't share needles with anyone.

Don't handle animals (especially monkeys, dogs, and cats), to avoid bites and serious diseases (including rabies and plague). (For more information, please see the Animal-Associated Hazards on the Making Travel Safe page.)

Don't swim in fresh water. Salt water is usually safer. (For more information, please see the Swimming Precautions on the Making Travel Safe page.)

What You Need To Bring with You:

Long-sleeved shirt and long pants to wear while outside whenever possible, to prevent illnesses carried by insects (e.g., malaria, dengue, filariasis, and Japanese encephalitis).

Insect repellent containing DEET (diethylmethyltoluamide), in 30percent-35percent strength for adults and 6percent-10percent for children.

Over-the-counter antidiarrheal medicine to take if you have diarrhea.

Iodine tablets and water filters to purify water if bottled water is not available. See Do's above for more detailed information about water filters.

Sunblock, sunglasses, hat.

Prescription medications: make sure you have enough to last during your trip, as well as a copy of the prescription(s).
After You Return Home:
If you have visited an area where there is risk for malaria, continue taking your malaria medication weekly for 4 weeks after you leave the area. If you become ill after travel--even as long as a year after your trip--tell your doctor the areas you have visited.

Finance and Banking
Malaysian Money
The currency in Malaysia is the Ringhit which consists of 100 Ringhit to the Malaysian Dollar. Coins include the 1 Ringhit, 5 Ringhit, 10 Ringhit, 20 Ringhit, 50 Ringhit pieces. Currently (2001) the Malaysian Ringhit is RM 3.80 = USD 1.00.
Money can be exchanged at commercial banks, at currency exchange services of these banks and at authorised moneychangers. Rates may vary slightly from bank to bank.
Many hotels double as authorised exchange outlets though their rates are usually not as good as those of banks and independent authorised moneychangers. A small number of authorised moneychangers offer better rates than the banks.
Banks are open from Monday through Friday from 10am to 3pm, and Saturday 9:30am to 11:30am. Most bank staff speak English so communication in most branches shouldn't be a problem. Authorised moneychangers in hotels often stay open 24 hours a day.

Banks are open as above except on holidays, which fall as follows: Weekly holidays vary from region to region. In Selangor, Melaka, Penang, Perak, Pahang and Negri Sembilan, there is a half-day holiday on Saturday and a full-day holiday on Sunday. In the states of Johor, Kedah, Perlis, Terengganu and Kelantan a traditional half-day holiday is observed on Thursday and full-day holiday on Friday; Saturday and Sunday are treated as weekdays.