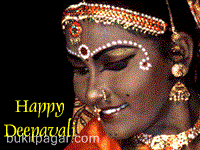 On Penang the National Deepavali Open House was held this year on the 24th of October at Little India and the Esplanade. HRH, the King & Queen, graced the function and they had a walkabout through Little India. Also present were the Deputy Prime Minister and the Tourism Minister.
Deepavai is celebrated on the Hindu month of Kartik in October / November. It is also called the Festivals of Lights.
It's a day of festive joy and Malaysians visit their friends of Hindu faith to extend good wishes and to partake in the feasting and jollity

The word "Deepavali" is a combination of the words 'Dipa' and 'Gavali', the former meaning 'light' and the latter meaning 'a row'. Thus symbolizing the rows of lights that can be seen at the houses of Hindu celebrants. As light dispels darkness, this festival symbolizes the victory of good over evil.
Several days before the celebration of Deepavali the houses of the Hindus as well as their surrounding areas are cleaned from top to bottom.
The entrances of Hindu homes are decorated with the 'kolam', an intricate floral design on the ground which signifies religious believes. This religious connotation, revolves around the Goddess of Wealth, the deity Lakshimi. Many believe that the Goddess Lakshimi would only enter a home with a 'kolam' at the entrance.
The glow of lights, whether "vilakku" (oil lamps fashioned out of clay) or colourful electric bulbs, brighten up the abode of both rich and poor, signalling the coming festivities
The Hindus would prepare numerous traditional cakes and sweets for the day, among them are "murukku", "omopadi", "athirrsam", "achi murukku", "laddu" and "mysore pahu". These are made a few days before Deepavali.
On Deepavali morning, many Hindu devotees awaken before sunrise for the ritual herbal oil bath., They put on new clothes. Then they go to the temples where prayers are held in accordance with the ceremonial rites.

The rest of the day they distribute cakes and sweets to their neighbours and friends and many have "open house" for their non-Hindu friends , as is customary in Malaysia.
Most devout Hindus tend to be vegetarian, but that doesn't change the fact that Deepavali is the day to savour the many delicious Indian delicacies such as sweetmeats, rice puddings and the ever-popular murukku.