Sultan of Terengganu
the new king of Malaysia.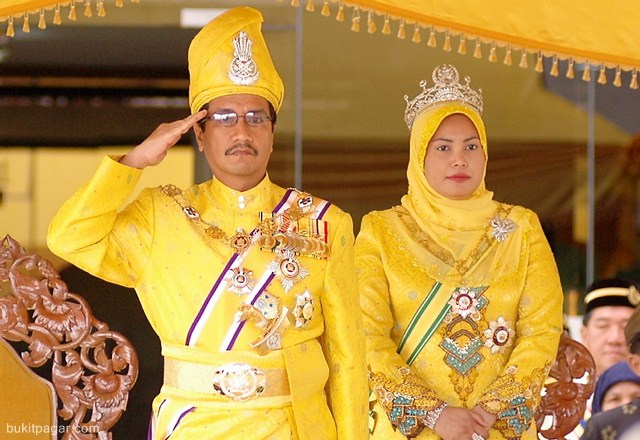 On 3 November 2006, Sultan Mizan Zainal Abidin was elected by the Conference of Rulers to succeed Tuanku Syed Sirajuddin Syed Putra Jamalullail (Raja of Perlis) to become the 13th Yang di-Pertuan Agong of Malaysia with his term starting December 13, 2006 for a five year term following a rotation system practised by the Rulers. The five-year rotational constitutional monarchy practised in Malaysia is one of its kind in the world.
Malaysia has sworn in a new king, its second-youngest ever, amid some controversy over the amount of money spent on the country's little-known royals.
Sultan Mizan Zainal Abidin, 44, wore canary-yellow robes and jewel-encrusted headgear for the glittering ceremony at the national palace, which is to be replaced in a few years at a cost to taxpayers of 400 million ringgit ($113 million).

Malaysia has nine sultans and each takes turn to rule for five years as king, signing legislation into law and appointing judges but always on the premier's advice.

A symbolic role, the king embodies Malaysia's heritage as a collection of Muslim kingdoms and also serves as titular head of the armed forces and keeper of the official religion, Islam.
But since the government announced plans last month for a new palace, despite painful budget cut-backs, the opposition has raised some awkward questions about the royal upkeep.

The new palace is to be built atop a hill on 240 acres (97 hectares) and is expected to be finished in 2009.

"The question we have in mind now is whether we really need a new palace at a time when our economy is so sluggish," said Ronnie Liu, a leader of the opposition Democratic Action Party.
"To us, the old palace is still in good condition and sufficient for its functions and purposes."
Sultan Mizan, from the oil-endowed northeastern state of Terengganu, held his palms open in prayer during the ceremony, watched by fellow royals and government officials.
A far less colourful figure than some of his predecessors as king or his fellow sultans, the new monarch attended Britain's Sandhurst Royal Military Academy and served as a land administrator before succeeding to the throne of Terengganu.
The royal family of southern Johor state has captured the most headlines over the years. Mahmood Iskandar, now the sultan of Johor and a former king, was once convicted of manslaughter but pardoned by his father who was then the sultan.
One of the new king's cousins described Sultan Mizan as a quiet family man.
"He's humble and down to earth," he said, adding: "He loves horses. He competes internationally in horse endurance events."