The highways in Malaysia are good. Specially the North South Highway from the Thai border till Johor Bahru is very good. If you have rented car the best way is to buy a good road map in Malaysia. You 'll have the latest edition and it's cheaper than in your own country. Any good shopping mall in Kuala Lumpur has a bookstore, which sells a road map.
At the east coast is not a highway, but the road is also very good to drive.
Right through the jungle goes a road from Kuala Lumpur to Kota Bharu. A friend of mine, who used to drive this stretch, wrote me:
I used to take this route to visit my branches when I was still working. The last was about 2 years ago in a Volvo saloon car (instead of a 4X4 vehicle which I always used previously) as most of the roads have now been paved (you do get the occasionally potholes though). I am sorry I can't really tell you the time it took me as I always stopped a night in most of the towns along the way i.e Bentong, Kuala Lipis, Raub, Gua Musang and Kota Baru. Notwithstanding the improved road conditions, some stretches are still narrow and winding especially towards Kuala Lipis and Raub. There are not as many timber lorries nowadays especially around the timber town of Gua Musang due to the depleting stocks of timber trees which makes travelling along this stretch a lot less treacherous. 
If you do decide the take this route, why not proceed further from Kota Baru down south to Kuala Trengganu, Kuantan and then back to KL. The road especially the coastal roads pass through some of the most beautiful beaches I have ever seen.
If you are really adventurous try going to Gua Musang through Cameron Highlands... the only problem is that you will need a 4X4 vehicle if you choose this real jungle route. Camerons has much to offer and your backpacker friends can easily find cheap and clean accommodations such as the Daniel's Lodge or the Twin Pines just to name 2 in Tanah Rata.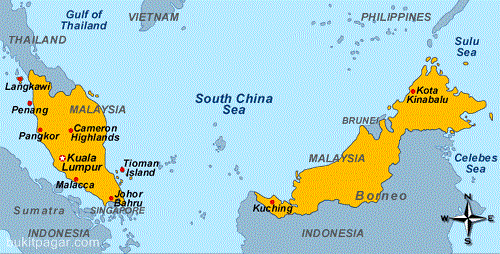 Many backpackers want to travel by van from Penang to Thailand (Krabi or Koh Samui). It takes about 6 hours by road (van) from Penang to Krabi. It should take longer to Koh Samui as it is further away .... perhaps another 2 hours. By van it costs RM33 per person to Krabi. You can get these van tickets from many places along Chulia Street in Penang. An alternative will be to fly from Penang to Phuket and proceed to Koh Samui by road. Since I was the last time Singapore I remember SIA flies directly from Changi to Krabi A few months ago I met a friend at Changi Airport and he told me he is on a direct flight (SIA) to Krabi.