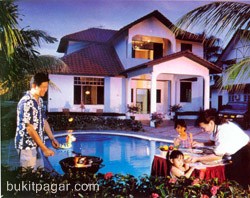 RETIREMENT IN MALAYSIA : MALAYASIA MY SECOND HOME
This program is initiated, organized and launched by the Malaysian Government. It is, therefore, a program, that the Government will continuously work to ensure its success
The

program is to allow people from all over the world, who fulfil certain criteria, to stay in Malaysia as long as possible on a social visit pass with multiple entry visa. The Social Visit Pass is initially for a period of 5 years and renewable.

It is open to all citizens of countries recognized by Malaysia regardless of race, religion, gender or age.

The conditions:
8
The applicant must prove a minimum fixed deposit of RM150,000 with any Malaysian financial institution AND have a monthly offshore income equivalent to at least RM7,000 if single or RM10,000 if with spouse.
But if applicant is above 50 years old, he has only to prove either a fixed deposit of the same amount OR a monthly income as stated.
Having a reputable sponsor can be a help. However, this condition is not required if the financial background and status of the applicant satisfies the Processing Officer.
8
To have a medical report from any recognized hospital.
8
A medical health insurance valid in Malaysia.
8
The successful applicant cannot seek gainful employment in Malaysia unless he posseses special expertise and obtains the permission of the Malaysian government
Malaysia has one of the highest standards of living in the region with all the modern infrastructure and facilities in place.
The cost of living is one of the lowest in Asia and will remain so for a very long time. This is achieved through the Government's efficient monitoring of the economy in ensuring that inflation is kept low at all times and thereby also the prices of goods and services.
The weather is pleasant, warm and balmy with moderate rain throughout the year, There are also highland residential areas and resorts with permanent spring-like weather throughout the country.
The whole country is very well connected with up-to-date, modern road, rail, air, and sea transportation systems. Public transport by buses, taxis, trains and planes are comfortable, efficient and relatively low in cost.
Statistics can proof that Malaysia is one of the safest countries in the world, its crime rate is relatively low.
Islam is the official religion of Malaysia but the constitution guarantees the right of people to practise other religions.
The Malaysian language (Bahasa Melayu) is the national language of the country; English is the second language but other languages can be freely used and practised. Similarly the Malaysian culture is dominant in the country because the Malays are the dominant race in Malaysia and in the region. But other cultures can be practised very freely and there is a free intermingling of different cultures.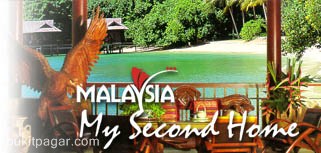 HOW TO APPLY FOR THE PROGRAMME?
Application can be made direct to :
Department of Immigration, Malaysia Block 1 (North), Level 4, Damansara Town Centre 50550 Kuala Lumpur, Malaysia
Any Malaysian representative Offices overseas and also Tourism Malaysia Offices
Applications can also be made through agents, and lawyers.
To be enclosed with the application are two (2) passport-size photographs of the applicant, spouse and accompanying children together with relevant supporting documents.

APPROVAL
Under normal circumstances, all applications that fulfill the criteria should be processed and approved within 30 days after submission of the application.


FURTHER ENQUIRIES
For further enquiries regarding this Malaysia my 2nd home program, participants can contact :

Ministry of Culture, Arts & Tourism,


Tourism Division
Level 33, Menara Dato' Onn Putra World Trade Centre
45, Jalan Tun Ismail 50694 Kuala Lumpur Malaysia
Tel: 03-2693 7111/2696 3132/2696 3133
Fax: 03-2694 1146/2693 2399
Website: http://www.mocat.gov.my/



Ministry of Home Affairs, Malaysia


Block D I , Parcel D Federal Government Administrative Centre
62546 Putrajaya, Malaysia
Tel : 03-8886 8000 Fax : 03-8889 1613
Website: http://www.kdn.gov.my/



Department of Immigration, Malaysia


Block I (North), Level 4 Damansara Town Centre
50550 Kuala Lumpur, Malaysia
Tel : 03-253 9181/254 5096/254 5108
Fax: 03-252 4911/256 2340
Website: http://www.imi.gov.my/