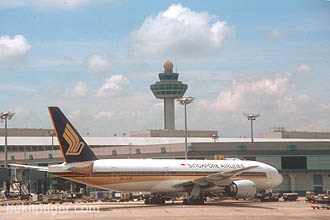 By Bus
From Johor Bahru
There are two ways to travel to Kuala Lumpur by bus: from Johor Bahru and from Singapore. Singapore is more expensive and there are daily not so much busses departing for Kuala Lumpur.
If you're arriving at Changi Airport, there's a MRT (Mass Rapid Transit) in Terminal 2. It's easy to travel through Singapore by MRT.
Take the MRT from Changi Airport (EW29) to Kranfi (NS7). You'll have to change trains at Jurong East (EW24/NS1). You don't have to walk any stairs; just wait at the platform for the next MRT.
At Kranji MRT is a bus stop. You'll take bus nr 170, which will take you to Larkin Bus Station Johor Bahru.
When the bus arrives at the Woodlands Checkpoint (passport control), you have to get out of the bus with your luggage. Keep your bus ticket, you'll need it for the next bus to Larkin. You don't have to hurry, because buses to Larkin are going all day.
At Larkin you'll take the bus to KL.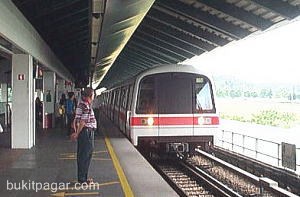 MRT - Singapore
From Singapore
Transnational Express Sdn Bhd has coaches departing from Lavender Street Bus Station in Singapore at 8.30 a.m., 10 a.m., 12 noon, 1.30 p.m., 3 p.m., 5 p.m., 8 p.m. and 11 p.m. A ticket costs S$15. The S$15 direct coach is very good value, and saves you the hassle of having to travel to Larkin Station in Johor Bahru to get an onward bus ticket for about the same price.
There are also express coaches to Kuala Lumpur, departing from Queen Street Bus Station (departs at 9.00 a.m., 5.00 p.m. and 10.00 p.m.) and Golden Mile Complex along Beach Road in Singapore. Those are more expensive at S$23 each.
Kuala Lumpur
The main bus station in Kuala Lumpur is Puduraya on Jalan Pudu (near China Town). It's normally bustling and stifling. The host of amenities includes a post office, ATMs, luggage storage opens from 7:00am to 10:00pm, food court and tourist info.
Puduraya is the main hub from where buses spider outwards to the other cities. There are quite a few companies running different routes. To the uninitiated, it will appear confusing. Scout around till you find one suitable.
The Standard buses are air-conditioned 42 seaters. Next up will take you up to Business Class, usually 24-25 seaters and the best bits will be The Super VIPS seating 21-24 with WC, snacks running non-stop. These are the NICE buses from Plusliner.
I'd go for the Super VIPS.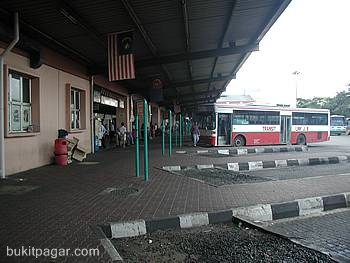 Larkin busstation in Johor Bahru