The new King of Malaysia is the Raja of Perlis. He was elected by the Council of Rulers a few days ago. His late father, the former Raja of Perlis, used to visit the Penang Club each time he was in Penang .... he enjoyed the harbour view from the club as well as the food.
IN MEMORIAM

KUALA LUMPUR -- Malaysia's king, Sultan Salahuddin Abdul Aziz Shah, died in hospital on Wednesday on Nov 21, 2001, at the age of 75, his family said.
The king died at 11.57 am (0357 GMT), (Former) Prime Minister Mahathir Mohamad announced in a national television broadcast at 1.50 pm. He proclaimed Thursday a public holiday.
Sultan Salahuddin was admitted to the Gleneagles Intan Medical Centre Hospital here on Sunday after returning from Singapore, where he had a heart pacemaker fitted on Sept 19 at Mount Elizabeth Hospital.
The king, who was born on March 8, 1926, leaves 10 sons and four daughters from four marriages. He married the queen, Tuanku Siti Aishah, 29, in 1990.
He was crowned Malaysia's 11th king on Sept 23, 1999.
Under the Constitution of Malaysia, the position of king is rotated among the heads of the royal families of nine states every five years. Sultan Salahuddin ruled the state of Selangor.
The new king is likely to be Sultan Mizan Zainal Abidin of Terengganu, 39, who was named Acting Yang di-Pertuan Agong during Sultan Salahuddin's illness.
Sultan Salahuddin was said to be particularly close to his subjects, with whom he mixed easily, and earned the nickname 'the ruler with the heart of the people'.
Before ascending the throne in Selangor, he studied in Britain and then returned to Malaysia, where he worked as a school inspector and served briefly in the army.
The former king of Malaysia:
Yang di Pertuan Agong Sultan Salahuddin Abdul Aziz Shah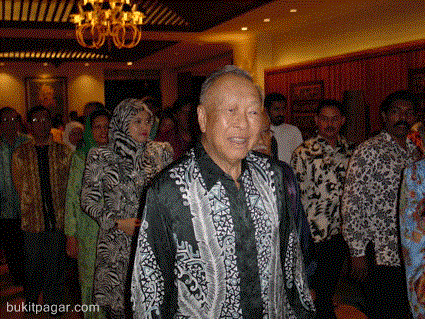 The Malay word for king is "Raja". Agong means "Supreme". The people called him "Agong", because that's much easier to pronounce than his full name. He was born 1926 and he was Sultan of Selangor. His full name was:
Yang di Pertuan Agong Sultan Salahuddin Abdul Aziz Shah .
Behind the king walks Her Majesty, who is 31 years old. She was born on November 18, 1971.
Raja Permaisuri Agong Tuanku Siti Aishah.
Every state in Malaysia has a sultan or a governors. They have 13 states and every five years the choose a king from a different state. This king is the sultan of Selangor. So, he holds office for five years and enjoys the style of Majesty.
His Majesty married Her Majesty Raja Permaisuri Agong Tuanku Siti Aishah on May 3, 1990. From His Majesty previous marriage, His Majesty was blessed with four princes and six princesses.

His Majesty was an avid lover of sports. His favorite one was golf and His Majesty was a well-known golfer in Malaysia and in international arena. His Majesty also loved sailing, collecting vintage cars, rearing animals as pets and growing orchids. His Majesty also loved to travel overseas to broaden his knowledge and experience.
We met the king in the Rasa Sayang Resort (Penang). He was visiting the island unofficial. He was accompanied by his wife and the governor of Penang who invited him for a banquet in the Rasa Sayang. There were 30 security guards around the king. The king was a very, very nice person, who shook hands with all the present (hotel) guests.>

Malaysia became an independent kingdom on 31st August 1957. The original federation consisted of the peninsular states of Johor, Kedah, Kelantan, Malacca, Negeri Sembilan, Pahang, Penang, Perak, Perlis and Terengganu. A new Federation, with the name of Malaysia, came into being on 16th September 1963. It consisted of the original peninsular states, together with, Singapore, Sarawak and Sabah (British North Borneo). Singapore withdrew from the federation and became an independent republic on 9th August 1965.