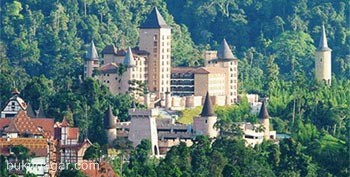 Agoda offers the following Best Price Guarantee: If you have reserved a hotel room through Agoda and then show us that you could book the same room for the same dates at a lower rate that is viewable and bookable on another website within 48 hours of booking your room with us, we will either match that rate or beat it.
A clock tower at the entrance welcomes the visitors.
You need to walk up (and down) curvy concrete staircases to view the entire development.
The theme hotel is made up of eight blocks of architectural wonder, each with its unique style, from its colourful roof tiles to cobblestone ground.
The hotel has several outlets, where you can dine in the French way.
Central to the village is Colmar Square where the aroma of the blooms will tantalise your senses.
There are fountains and park benches in the square for relaxation after a hard day's work browsing in the 17 theme shops, or should one wish to take a breather from participating in the various activities.
The drawbridge reminiscent of ancient castles, clock tower with an original cuckoo bird clock, and the viewing tower complements the ambience.
The Colmar Tropicale, Bukit Tinggi, is conveniently located close to the picturesque Karak Highway, and is only forty minutes away from Kuala Lumpur. The distinctive architectural style of the Colmar Tropicale is based on a northeastern French village of the 16th Century and is surrounded lush tropical forest. A wide selection of dining options is available to guests staying at the Colmar Tropicale and a variety of exotic cocktails, beverages, and snacks are also available. The 260 well-appointed guest rooms and suites at the Colmar Tropicale offer a range of amenities to ensure a relaxing stay. Recreational facilities at the Colmar Tropicale include swimming pools.

Informatie/ reservering

Rooms from US 72 per night




Hotel Facilities
Basketball court
Bowling
Cafe
Children's playroom
Children's swimming pool
Concierge
Conference facilities
Disabled facilities
Golf course
Gymnasium
Laundry facilities
Library
Lift
Lounge
Outdoor swimming pool
Parking facilities (at cost)
Reception
Restaurant
Room service
Sauna
Shopping arcade
Squash court
Swimming pool
Tennis court