Agoda offers the following Best Price Guarantee: If you have reserved a hotel room through Agoda and then show us that you could book the same room for the same dates at a lower rate that is viewable and bookable on another website within 48 hours of booking your room with us, we will either match that rate or beat it.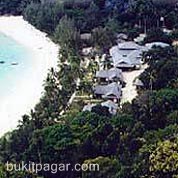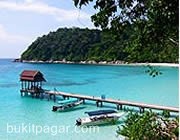 The Perhentian Island Resort is situated on a quiet, enchanting island retreat, a total escape with complete seclusion from the city. Designed to cater to your convenience and comfort the resort is perfect for both the business traveller and holiday maker. The Resort on Pulau Perhentian Besar consists of beautifully designed detached Chalet to choose from, all equipped with air-conditioned and hot shower.
The journey begins with a 1 1/2 hours boat ride from Besut, sailing across blue seas and away from the coast of Terengganu, behold the panoramic view of Pulau Perhentian ahead.
CAPACITY 24 semi suites , 28 deluxe, 54 superior.
All rooms with bathroom attached, superior (Garden or Pool View), Deluxe (Garden, Beach area or Sea View)


Informatie/reservering

Rooms from USD 41 per night
Resort Facilities & Activities .....
- Restaurant - Pinang Seribu Restaurant. Serve a variety of western and local cuisine ( 07:00 am - 11:00 pm daily )
- Electricity - 24 hours daily.
- Swimming pool, tennis court, conference facilities & karaoke
- Television - Satellite television, available only at restaurant.
- Water supply - Government & artificial well, clean & safe.
- Dive centre - PIR Sea Sport Dive Centre
- Internet & email - Available.
- Rental - Plenty of snorkelling gear / canoe.
- Beach games / volleyball / nature walks / jungle trekking
- Swimming / snorkelling or relaxing right from the chalet.
- White sandy beach.
- Boat for island hopping / snorkeling trips / fishing




Bubu Long Beach Resort , which is strategically located along Long Beach on Pulau Perhentian Kecil, is the only deluxe resort hotel on the island. Uniquely designed right on the beach front, the resort incorporates local architecture with modern day facilities.
Bubu Restaurant serves local, western, Chinese cuisine and fresh seafood. Special "theme" parties can be catered for upon request, Long Beach Club serves a variety of fresh juices & beverages . There are 39 Sea View and Side Sea View rooms. The rooms have air-cond, hot & cold shower, balcony, ceiling fan. Other fascilities: deep sea fishing, snorkelling, diving, canoeing and other beach sports, nature walk, telematch games, karaoke dance & indoor games.
The surrounding crystal clear waters of the South China Sea are home to an abundance of coral and marine life including green and hawksbill turtles, moray eels, rays and reef sharks. The resultant white sand beaches combined with a very relaxed atmosphere makes this a mecca for scuba divers, snorkellers and those just wanting somewhere to break away.

Informatie/reservering

Rooms from USD 70 per night
| | |
| --- | --- |
| | Air-conditioning with individual control |
| | 39 rooms |
| | Attached bathroom |
| | Bathroom amenities |
| | Ceiling Fan |
| | Hot & Cold Shower |
| | Writing Desk |
| | Large Beds |
| | Schmooze Cafe |
| | Long Beach Club |

The Perhentian Islands are a cluster of islands off the East coast of peninsula Malaysia. They are in the South China Sea about 21km off the coast of Terengganu. There are two main islands: Pulau Perhentian Besar (big island) and Pulau Perhentian Kecil (small island). Both islands have rocky forested interiors with a few jungle paths. Both islands are rich in wildlife for such a small area. You can see monkeys, lizards large and small. flying squirrels, butterflies and many other types.
In the waters of Pulau Perhentian, one is guaranteed to see coral gardens as even many beaches are strewn with dead corals. The best time to visit Pulau Perhentian is from March to October, outside of the monsoon season.
If you are lucky you may find yourself swimming next to a turtle - the bigger they are the older they are, possibly 100 years old - a wonderful sight.


Perhentian Island Resort
They are cautious animal and slow in movement because they conserve energy, so please do not approach too closely or touch them. When you see a turtle in these waters it is here for mating and laying of eggs and must not be disturbed. Turtles are an endangered species.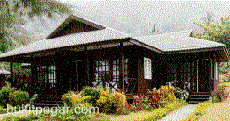 The Perhentian Island Resort