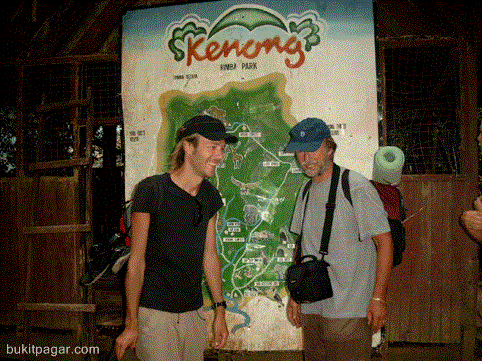 We arrived in Jerantut (coming from Kota Bharu) by train at 19.20 and we were looking for a nice, clean guesthouse. The trip by train was very impressing. The toilets were very dirty and we saw a lot of black beetles on the train. A nice guy on the train (his name was "Abdul") advised us to stay at the
Greenpark Guesthouse in Jerantut. The jungle is very impressing. We didn't want to miss that train!
The old train stopped every quarter of an hour. If you want to get out somewhere in the bush, just tell the train conductor. He'll stop. You don't need a railway station, he'll stop!
A taxi driver took us for free to the guesthouse. At that moment we were not aware, that this was the beginning of a very special trip.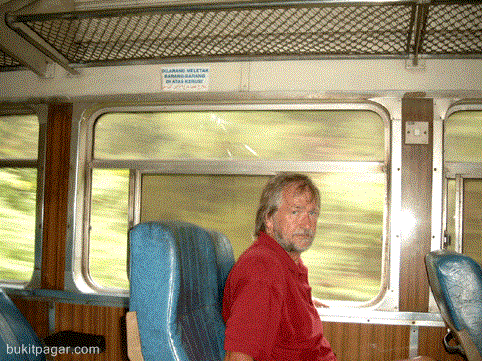 On the train from Kota Bharu to Jerantut
We book a double room (RM20) when we arrive at the Greenpark Guesthouse. It's clean and cosy. There's free tea, coffee.... you can even prepare your own food in the kitchen, but it's nicer to eat outside at the hawker stalls. There's also the Internet for RM4 per hour. Actually, it's a backpackers guesthouse, but we feel home at once.
It seems we can organize our trip to the Kenong Rimba Park here in the guesthouse. They have their own guides. We can book a trip to Taman Negara also. We decide to go for the survival trip to Kenong Rimba.
So we book our trip (2 nights/ 3 days) for RM250 per person. Inclusive: guides, breakfast, lunch, dinner and drinks. But we need a backpack for trekking, so we have to buy that.
Kenong Rimba is situated in natural surroundings with cascading waterfalls, caves, clear mountain streams and a variety of flora and fauna. Within the Kenong Rimba Park, there are several caves to explore. There are Gua Batu Telangkup, Gua Hijau and Gua Harimau. The Caves, situated approximately 122-152 meters above sea level, are a natural habitat for a range of flora and nature's other marvels.
What we need to buy:

- bathing suit
- towel
- toiletries
- torchlight/ water bottle
- knives
- joggers/ walking shoes
- insect repellent
- caps
- medicines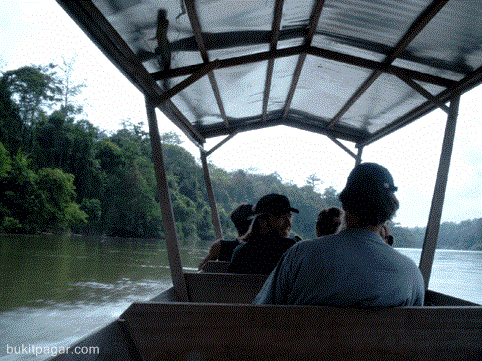 Day1
In the morning there's a taxi ride (25 km) to Kuala Lipis, the staging point to the Park. Then there's a long boat waiting for us. We're on the river for 30 minutes and then we have to walk four kilometres through the jungle. We take our time for that walk. After four hours we finally reach our base camp. Here they prepare in a wok our lunch: rice, vegetables, chicken and omelette. It's delicious!
Accommodation at the park is limited to visitors. However, at present there are a few units of wooden huts for visitors. Tonight we have one of those wooden huts!
In the afternoon we visit a cave. The park boasts a complex network of caves, each with individual uniqueness of geological formations and fascinating legend. Our cave must be very old. We see a very old fire place, which has fascinated geologist and archaeologists from all over the world and must be from the Stone Age. This cave have played a role in the story of human civilisation right from the Stone Age till today.
The cave is also the home to a lot of bats.
We are witness of beautifully sculpted stalagmites and stalactites.
When we are back in our base camp, we have a swim a the river. That night we sleep in a wooden hut on stilts.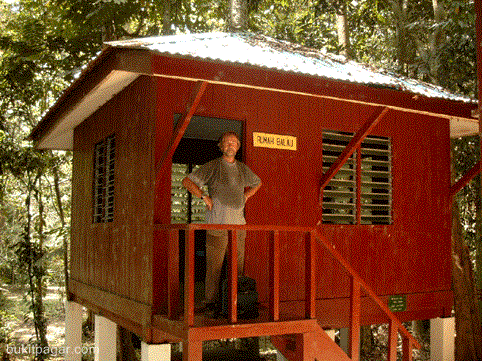 Day2
It's gonna be a long day for us. After our breakfast we get a lot of stuff for our survival trip: basic sleeping bags, basic sleeping mats, tea, chocolate milk, noodles, candy's and an orange.
After a trip through the jungle we reach again a cave. Again we see a lot of bats, hanging on the ceiling.
We have to walk again trough Malaysia's tropical rainforest until it's lunch time.
For lunch we get a tuna fish salad and bread. We are troubled by a lot of bloodsuckers.
We see and hear a lot of animals in the afternoon, but not those wild animals we wanted to see: tigers, elephants, or wild and dangerous animals. We see: squirrels, mousedeers, a variety of birds, primates and many more that exist in this thick jungle.
At five o'clock we stop and the guides are going to make our dinner. That evening we have noodles, tuna fish with sauce.
When it's dark, we have to climb a self made ladder and we enter a cave. This cave will be our bedroom for tonight. Our mats and sleeping bags are very thin, so it's hard to get some sleep that night. Mostly we're listening to the sounds of the jungle and we're enjoying the wonderful view at the full moon.
It's great to be in the jungle.
Day3
The next morning we wake up and hear the sounds of gibbons and birds everywhere . We made sure that the campsite was completely clean and that we had left no traces of our passing except for an extinguished fire.
The sun had broken through and we made the trail to our Base Camp, up and down several steep hills, across several streams. Finally we reach the Base Camp where we have delicious lunch.
After lunch we have to back to Jerantut. We can choose between the train and the local bus. We take the local bus.
In Jerantut we have a very fast bus to Kuala Lumpur. It costs only RM10.85 and we're back in the Golden Triangle of Kuala Lumpur.