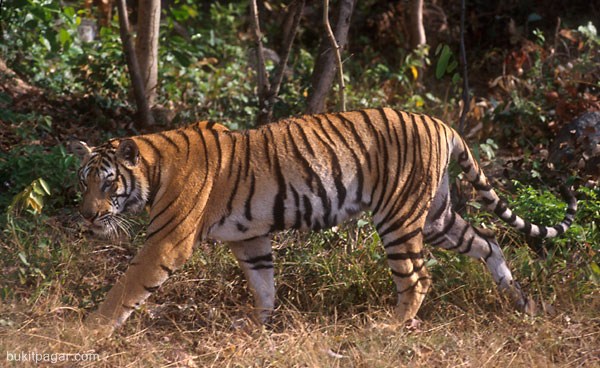 The wild Indo Chinese tiger population is today estimated to be about 500 animals in Malaysia. Based on an estimated mean density, it is extrapolated that there are between 70 and 110 tigers, consisting of both adults and cubs, in the National Pak, Taman Negara. The official name of the Indo Chinese tiger is
Panthera Tigris Corbetti . You won't meet those tiger is Taman Negara, because they like to stay in the thickly jungle on the Peninsular. It comes out of its habitat to look for food. Most of the time, it goes for easy prey such as kancils. and goats. Taman Negara is a safe haven for the endangered feline, at least for the next 100 years if there is no poaching of tigers and their prey .
The Indo-Chinese tiger is found in Malaysia, Cambodia, China, Lao PDR, Eastern Myanmar, Thailand and Vietnam. The population in the wild is estimated to be between 1,200 and 1,700.
It's feared the population will decline due to habitat destruction, poaching of prey species and tiger -human conflict
Example: Early on August 8, the 40-year-old rubber tapper was working in his smallholding in northeastern Kelantan state when he came face to face with Panthera Tigris Corbetti--the tiger subspecies most commonly found in Southeast Asia. The tiger pounced, mauling Abdullah about the face and head. He survived, but only by feigning death.
Abdullah was the fifth tiger victim in Kelantan this year. So far, three other villagers have died and one is missing. The attacks spread fear throughout the area, with villagers refusing to work their land without protection .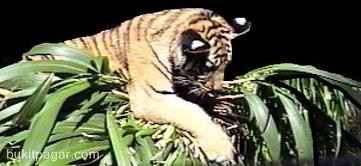 To help preserve the remaining tiger population, Kuala Lumpur in the 1970s created a series of nature reserves in thickly forested mountains in central peninsular Malaysia. Yet, new highway construction, logging and outright poaching have gone on eating into both the cat's habitat and actual tiger populations.
The range each tiger normally needs to find food, is a radius of about 20 kilometres (12 miles)
The tigers need food and due our need of plantations (palm oil and others) they have less land to prey.
E xperts say increased land clearing in recent years has become a major threat, endangering the tiger's habitat. Perhaps with the economic slowdown there is extra pressure on land clearing because the government is encouraging agriculture. We always say the tiger encroaches into human areas. But we are actually the ones who are encroaching on their habitat.
| | |
| --- | --- |
| Facts: | |
| - | In the 1950s there were 3,000 tigers in Peninsula Malaysia, by 1975 the numbers had crashed to 500. A year later, in 1976, the population was estimated to be as low as 300 and the tiger was given total protection in Malaysia |
| - | The Indo-Chinese tiger is the only species in Malaysia. Of the 2,000 Indo-Chinese tigers in the world, about 500 roam the jungles of peninsular Malaysia, Perhilitan estimates. |
| - | Historically, the world's largest cat has been revered in Malaysia as a symbol of strength and power. The country's royal crest portrays two tigers on either side of the coat of arms. |
| - | The Indo-Chinese tiger is found in Malaysia, Cambodia, China, Lao PDR, Eastern Myanmar, Thailand and Vietnam |
| - | Tigers are highly endangered. Globally, some 5,000 to 7,500 survive in the wild, according to WWF Malaysia. |
| - | They are a bit smaller and darker than Bengal tigers, with shorter, narrower stripes. |
| - | Their average weight is 180 kilograms (400 pounds). |
| - | Indo-chinese Tigers live in remote forests in hilly to mountainous terrain. Average litter size is 1-5 cubs |