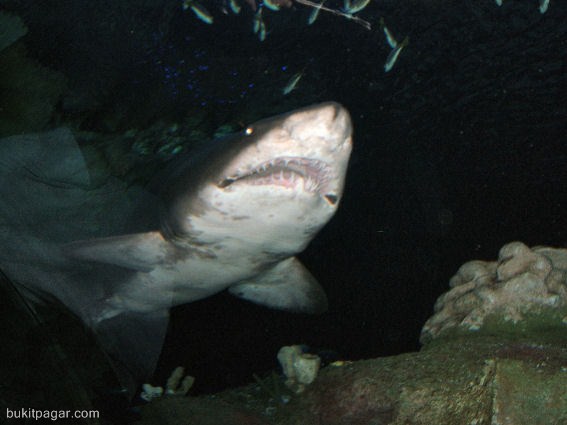 KL Aquaria is close to the Petronas Towers, but it's hard to find. With this description you can find it, when you are in the KLCC Suria shopping centre:
Take the escalator to the basement of KLCC Suria. Turn around and walk for about 25 meters. Now you'll see a sign at the ceiling "KL Aquaria". Go to the right and follow a long pedestrian tunnel.
At the end you're in an underground car park. Cross this car park and you come to a little food court. Now it's only 25 meters to the right.
Aquaria KLCC is based on the journey of water from the land to the sea. The journey starts in the misty highlands, down majestic rivers, through the rainforest and mangroves to the coral reefs into the deep blue sea.
The journey starts at the waterfall in the mountains. From here the water flows to lower expanse.
You'll see the fish that swims in that river: a giant catfish. Also you can see the animals, which live close to the river: camouflaged Leaf Frogs and Poison Dart Frogs.
You can explore and discover the animals of the river in the Malaysian rainforest.
Where the land meets the sea you'll find the mangroves. From the mangroves to coastlines you'll get a chance to examine baby sharks and even stingrays as they glide across the sandy bottom of the Touch Pool.
You can feel and touch them with a little help of our employees.
The multi-coloured corals are hand-made. They are fake and I'm happy about that!
In real, the coral is a living environment created with the help of brightly coloured fishes and a variety of carpet anemones.
The climax of the journey is the tunnel of the KL Aquaria. On a moving walkway inside the 90m acrylic tunnel, a view only previously accessible to divers venturing into the depths of the brilliant ocean is presented.
You can stop off at different spots anytime to view animals gliding and swimming.
You will be awed by trained divers and aquarists hand-feeding the fish, including rays and large sharks. A hidden shipwreck (a copy of the Royal Nanhai) is seen slowly being colonized by inquisitive reef inhabitants, gradually becoming part of the coral reef.
The 55mm-thick tunnel is curved, made to withstand an enormous amount of pressure from the 2.7 million litres of water that fills The Living Oceans aquarium. The glass is custom-made in Germany.
It was then shipped to New Zealand and shaped to curve the correct way, then shipped to Malaysia where it was then assembled.
You can see more than 3,000 sea creatures of various shapes and sizes living harmoniously in this simulated natural habitat and they can hide in the hidden shipwreck, colonized by inquisitive reef inhabitants. DoníŽt miss exhibits like the Sand Tiger Sharks, stingrays, eels and more.
Admission:
| | | |
| --- | --- | --- |
| Adult | Malaysian | RM28 |
| Children | Malaysia | RM22 |
| Adult | Non-Malaysia | RM38 |
| Children | Non-Malaysian | RM26 |
| Senior Citizens | 60 and above | RM18 |
A child must be accompanied by an adult
Operation hours are from 11 am - 8 pm
Last ticket sales & admission at 7.00 pm