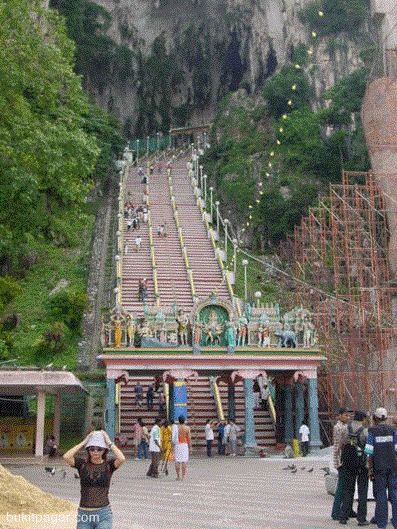 The Batu Caves are situated thirteen kilometers (seven miles) north of the capital city Kuala Lumpur. They are the sacred place for the Hindu's in Malaysia. They consist of three main caves and a number of smaller ones. The caves are made of limestone and 400 meters long and 100 meter high. They were discovered in 1892. From your hotel in the Golden Triangle you can reach the Batu Caves easily by taxi or public bus (11 and 11d). The public busses can be boarded at the Pudu Raya Bus Terminal in Kuala Lumpur.
At your arrival you will be greeted by lots of monkeys. They are going for your peanuts and banana's, which you can buy in several shop, before you climb up to the caves. You have to climb 272 steps, which will lead you to the religious and magnificent Batu Caves.
Once a year they celebrate the Thaipusam festival in the Batu Caves. It's a celebration for the son of Shiva (Subramaniam) and the becoming "one" of Pusan and the Brihaspati stars. Every year, on Thaipusam, as many as 800,000 devotees and other visitors may throng the caves. As a form of penance or sacrifice, many of them
carry kavadis (literally, "burden," such as a pitcher or jug). These are large, brightly decorated frameworks, usually combined with various metal hooks and skewers which are used to pierce the skin, cheeks and tongue. (see the photo below!!)
By doing this penance they want expect some favors from their Gods.
The festival is held in the tenth month of the Hindu calendar (mostly the end of January).
The Thaipusam festival.
By doing penance they want to extort some favors from the Gods. Every day there is a little celebration of a group of Hindus in the Batu Caves. Every time it's an imposing event, although there's no self torture. Temple Cave or Cathedral Cave is he best known and biggest of the caves.
It's visited by many devotees.
The ceiling is 100 m above
ground and this huge chamber is lighted by daylight from several holes in the ceiling At the end of the caves you can see the bright sky, when you look above you. Bus Nr 70 and 349 are leaving from Lebuh Pudu (in China Town) every 30 minutes. Journey is about 45 min! Open daily from 7 to 21h!
If you go up, you can see a lot of long tailed-macaque monkeys and if you have peanuts with you, they'll climb to you as I won't consider recommending. You might fall though.
You can take photo's of them, carrying their babies for the peanuts. There are locals in the entrance, who will approach you to buy peanuts!

Long tailed-macaque monkeys:
they love peanuts, but they love crisps also !