There are only two long distance destinations that Puduraya doesn't handle. These destinations are Jerantut and Kuala Lipis.
Therefore you'll have to be at Pekeliling bus station in the North of Kuala Lumpur.
With so many different counters offering so many destinations, it is a bit tricky to make a choice. Prices are basically the same but the state of the bus are sometimes different and schedules vary.

The biggest and most reliable bus company by far is the Government's Transnational with offices all over Malaysia. Plusliner also covers a lot of destination and is sometimes cheaper.

When you enter Puduraya you'll see a lot of outlets. In front of you is a staircase. At the right of the staircase is an ATM (if you need money). Beside the ATM is a big sign of Hotel Pudu Raya.
There's also a counter for left luggage (7:00-22:00 2RM/piece/day. Closed for lunch break!), a food court and tourist police.

Going up the staircase you'll come to the second floor. Go right and in the left corner you'll find all kind of ticket offices.

When you'll have purchased your bus ticket you'll have to go down to the ground floor, where you have entered the building. On this floor you'll have to find the right platform. where your bus will depart. Go down the staircase to your platform.

All buses air air-conditioned, so it's gonna be cold. Please take a sweater if you go into the bus.
Prices are mostly the same. A bus ticket to Penang will cost about RM25 for a 400km distance.
Buses stop only in large cities. So going to Penang you'll stop in Ipoh and Kuala Kangsar.
After 5 hours you'll be in Penang.

Daily everal buses from different companies will depart to your destination, but purchase you ticket one day before your departure. It's always recommended to book as early as possible.
Ask for the departure time an the platform.

If you want to take a taxi out of Kuala Lumpur to long distance destination, Puduraya bus station is the right place to find one.
Fares are negotiable, depending on the distance.
But the taxi won't leave the terminal until it has four passengers. Malaysians use this service only at peak travel periods, so you could be waiting for some time for a cab to fill up. You can, however, pay a fee equivalent to a full load. The terminal is open 24 hours.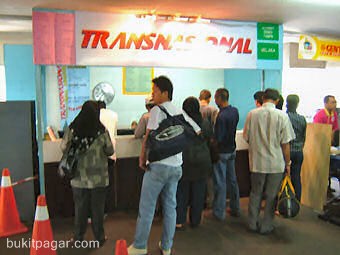 The counter of Transnasional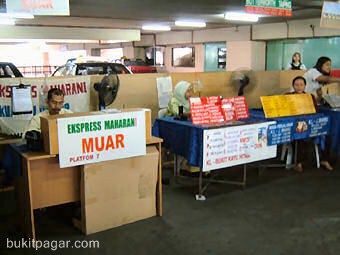 Other counters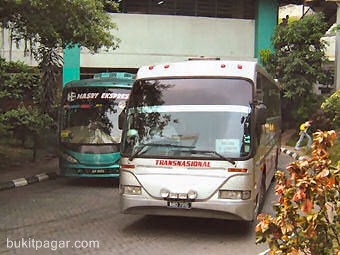 The departure of a Transnasional bus