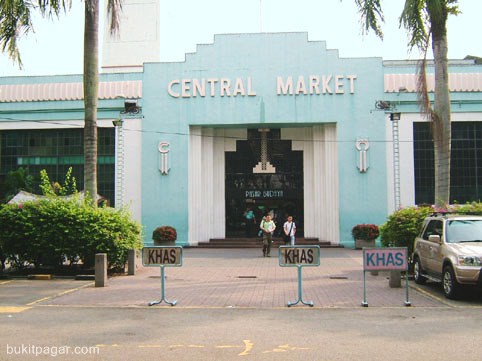 The Central Market is situated at the border of China Town. Therefore why wouldn't you combine a visit to the Central Market with a visit to China Town It's old building (1928), that has won awards for its architectural design
In this air-conditioned market you can find many souvenirs. It's a haven for tourists, where you can buy arts, handicrafts, batik, traditional wear etc. Everything that your heart desires is available here. All at reasonable prices.
The Central Market used to be an old "wet market" (meaning the market floor is wet from melted ice,
water splashes etc) selling meat, vegetable and other local products.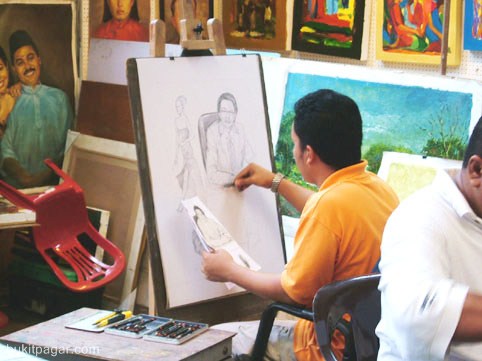 The building has pale blue colour. In front of the Central Market is a square with palm trees. If it's too hot outside you can cool down inside, because there's an air-conditioning.
Inside the building there are two levels. On both levels are shops for souvenirs and handicrafts. At the first level are some artists and you can buy T-shirts.
On the second level is even a small hawker center and you can buy antique items.
Amid the stalls selling an array of souvenirs are small outlets where Malaysian artists display their works. Visitors may even have their portrait painted or order custom-made handicrafts.
At the right: the artist is busy making a portrait from a photo.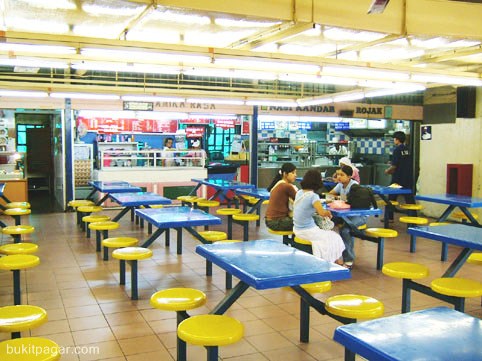 Those with an eye for the unusual will enjoy buying or browsing through the market's extensive range of novelty items such as jade trees and blown glass souvenirs.
The hawker center on the second floor is a good place for lunch. There's a lot of lovely food.
On the left you'll see the hawker center. This photo was taken at 10.30 am. They had just opened their stalls.
The opening hours of the Central Market: daily 10.00am - 10.00pm. Some shops are are opening at 11.00am.
Be alert to cultural shows and art exhibitions that are held here from time to time. When we visited the Central Market there was an exhibition of products from Russia.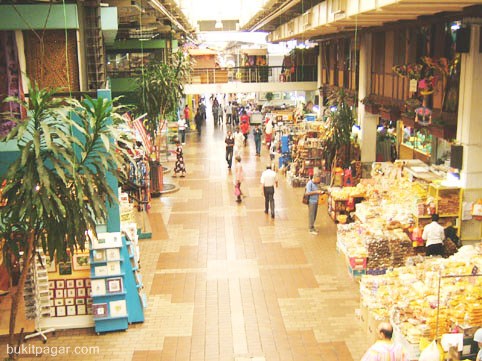 As from second floor you have a beautiful view of what's happening below.
you takes place.
At the right you see some stalls with food. At the left you have some handicraft shops. There are also plenty of small specialty shops and eclectic gift shops.

The Central Market is at the junction of Jalan Benteng and Lebuh Pasar Besar.
50050 Kuala Lumpur
Tel: (+603) 2272 9966
Fax: (+603) 2274 9906
Stay duration at the Central Market:
approx.1 hour