Kuala Lumpur boasts of a wide range of accommodation at competitive prices from international luxury hotels, medium and budget hotels. Most hostels and budget hotels in KL can be found in the city centre.
That's where I visited these hotels.
After you have familiarised yourself with your immediate surroundings (like Bikit Bintang, LOT 10 and Sungei Wang) , the Malaysian capitals city centre is full of vibrant districts which are constantly buzzing.






Hotel Seasons View



This hotel situated along Jalan Alor, the most famous food street in Kuala Lumpur.
You can indulge yourself in a sumptuous local hawker fare right outside our Hotel.
You can also savour Asian, Local, Western and fusion cuisines in the numerous signature restaurants along this street. You will also experience the harmonious blend of rich Malaysian culture to reflect the vast and diverse heritage of its people. A 5 minutes stroll will bring you to Sungai Wang Plaza, Lot 10, Starhill and BB Plaza and Berjaya Times Square, all of which are premier shopping centers.

It's strategically located in the heart of the Golden Triangle of Bukit Bintang. the premier shopping hub of Kuala Lumpur.
It's easy to walk to the Petronas Towers.
Just follow the glimpse of these towers. You can't miss.

Below here you can see the banner, which was outside, when we visited the Jalan Alor. The rates per room are very nice.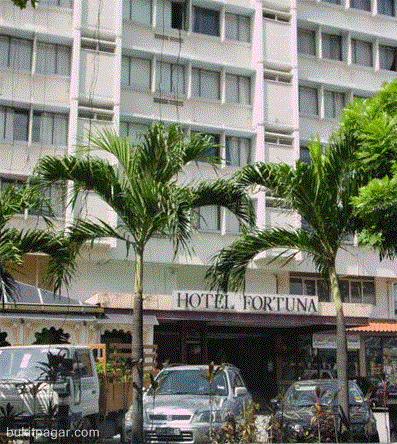 Hotel Fortuna.
Hotel Fortuna (two star) is a traveller hotel within the Golden Triangle of Kuala Lumpur city with easy access to the business district, shopping malls and entertainment centres. T
he hotel is a few minutes walking from the famous Bintang walk area.

Rooms - twin beds or king sized beds with central air-conditioning, keycard entry system, in-room electronic safe, CTV, selected satellite TV programs (ASTRO), IDD, private bath/shower, refrigerator, minibar, hairdryer*, tea/coffee making facilities* and internet ready*. (Note: * - available in deluxe rooms only.)

Facilities - Sahara Tent Restaurant (authentic Arabic food), Terrace Bar (light meal and drinks).
Business centre with computing, photocopy, fax, e-mail services, 80-bay parking lot (free for room guests), Safe deposit box facilities, Currency exchange, Same day laundry & dry-cleaning, Ironing facilities.
It's easy to walk to the Petronas Towers.
Just follow the glimpse of these towers. You can't miss.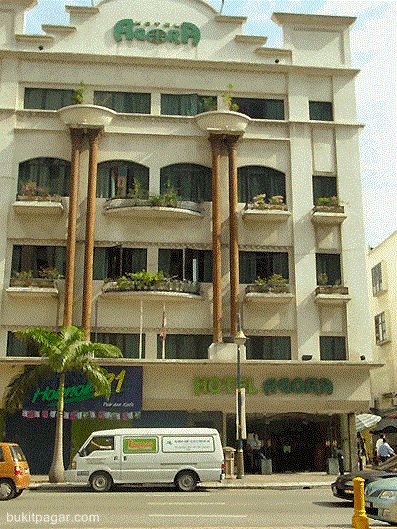 Hotel Agora.
Agora Hotel is strategically situated in the heart of Kuala Lumpur, where the hustle and bustle of modern city living takes its full form.
Agora's economic rates coupled with the fair state of its rooms puts it among one of the more obvious choices for the traveller on a budget. Thus, Agora could well position itself as an economic, basic but comfortable hotel graced with the convenience of shopping and transportation facilities. No frills, just a good place to lay one's head after a hard day of travelling and sight-seeing.
Opposite the hotel is the famous shopping complex of Bukit Bintang/ Sungei Wang. And also opposite of hotel Agora there's a Starbuck, where you can have the nicest cups of coffee.
On the left side of the hotel (about 25 meters) is a Kentucky Fried Chicken. On the right side is a McDonalds.
Also on walking distance: The Petronas Towers!