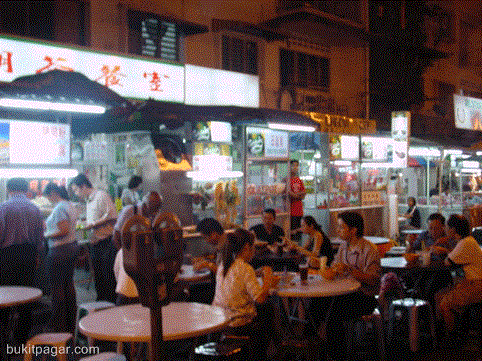 Kuala Lumpur is all about eating, and the best eating isn't in the air-conditioned restaurants. The best place is eating in Jalan Alor. Formerly known as the Red light district of KL. The area has since undergone a number of facelifts, and the hosts now cater more to delight the gastronomical passions of its patrons. The stalls are parked all along the street. It is quite an overwhelming experience for the first timers, who may have some difficulty on deciding where to eat. Jalan Alor Jalan Bukit Bintang, one short walk away from the modern shopper's paradise of the BB Walk and its many malls and plazas.


It's easiest to arrive at the Bukit Bintang monorail stop and walk.

On that short walk, something very odd happens - the whole character of the city changes. The modern shopper's paradise melts away, and it's replaced by something from a past age.

The billboards disappear, replaced by smaller signs mostly written in Chinese. You turn your head and... you've arrived. It could be 40 years ago.

Both sides of Jalan Alor are lined by endless rows of 'mamak' stalls and outdoor restaurants, interspersed with hawker stands selling fruits, barbequed meats, hanging ducks, and so on. 'Bustle' is too timid a word;
Jalan Alor alive, like a living history of Asia in a simpler time.
The Jalan Alor area is relatively dead during the day, but when the sun goes down it gets a complete makeove r
Once preceded by its seedy history (indeed, remnants remain in the form of hourly-rate hotels), elevated itself, and is now known for its extravaganza sights, tastes, and smells.

Tourists rarely venture here; the foreign faces you see are certainly expats, each seeming to give you a knowing nod. You've reached the 'real' Asia.

Bring your appetite.
The tastes of Jalan Alor abound,and you'll likely be asked to sit and dine 80 or 90 times along the strip. You'd be a fool not to; this is a culturalhearth of local cuisine.






The satay is excellent, as are the many Chinese foods.

But don't feel intimidated; most of the menus have pictures of each delicacy.
Sit down for the food, but linger on the atmosphere.
As shadows grow long and the street fills with people, you'll see and hear things not experienced in many other parts of KL.

There is character in the Jalan Alor put into words. It takes on a life of its own each night, and seems different with every visit.

Only one commonality exists: you won't be able to fully describe your experience to friends back home.



Indeed, if you're the playful type and you want to see your newly arrived Western friends experience full-bore 'culture shock,' bring them to Jalan Alor.
Their reactions are almost as entertaining as the environment. The entire street is jammed on both sides with hawker stalls and restaurants (mainly Chinese) some of them open all night. Most places offers menus with photos of the dishes

There is character in the Jalan Alor night, one not easily put into words.
It takes on a life of its own each night, and seems different with every visit.


Jalan Alor in day time