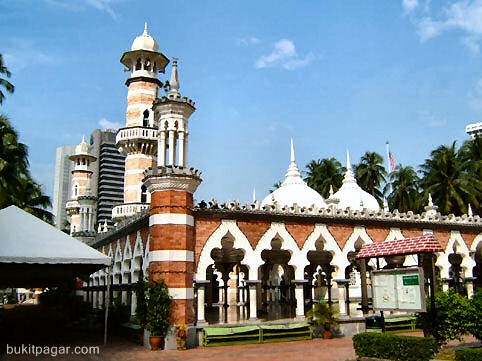 The Masjid Jamek is situated, where both rivers the Sungei Klang and the Sungei Gombak meet. Right at this very place has the history of Kuala Lumpur started.
The mosque was built in 1907 and officially opened by the Sultan of Selangor on 23rd of December in 1909. The Masjid Jamek Kuala Lumpur is the oldest mosque in KL.
This is the very spot for Kuala Lumpur's history, where the early settlers of Kuala Lumpur built their shacks. In the 1850s, early miners would unload here their equipment and provisions. They would then trek up the jungle path to Ampang, where they would dig for tin.
Masjid Jamek was the main mosque of Kuala Lumpur untill The National Mosque was built in 1965 near the railway station.
It was designed by Arthur Benison Hubbock, an architectural assistant in the Public Works and Survey Department, who was intrigued and inspired by the Mogul architecture of India.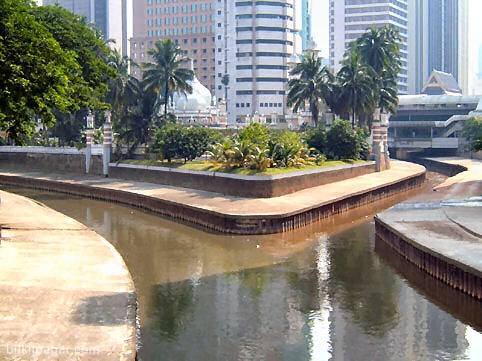 The Masjid Jamek cost RM32,625 and the money was raised by subscription from the Malaysian community and Government funds.
Its palm trees and the location on the banks of the Klang and Gombak rivers provide a tranquil setting that complements the Masjid Jamek's exquisite domed tower.
.
There are three domes surround the prayer hall; the central dome is 21.3m (70 ft) high and is flanked by two lower domes.
The biggest dome at the centre was collapsed in the 1990s and later rebuilt. At the corners are two red and white striped minarets.
At the corners are two red and white striped minarets 26.8m (88 ft) high, identical in design with chatris (umbrella-shaped cupolas, usually domed and open-sided) on the top.
A large number of small chatris top the entrances and corners of the Mosque.
This striking red-brick and marble building is inspired by the mogul/north Indian Islamic architecture.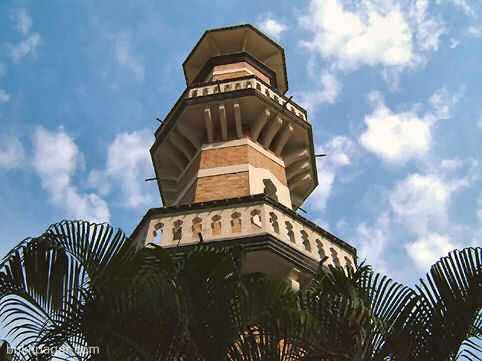 Commonly referred to as the "Friday Mosque, the crowd will be over flooded up to the street and the LRT Station nearby (no wonder they name it Masjid Jamek station) on Friday.
A must visit for all who come to Kuala Lumpur.
As mentioned: the mosque is easily to reach by Star LRT (station Masjid Jamek). Using the the KL-Monorail, go Hang Tuah station, transfer to the Star LRT.
Nearby on walking' distance are the Central Market, China Town, Little India and the Merdeka Square.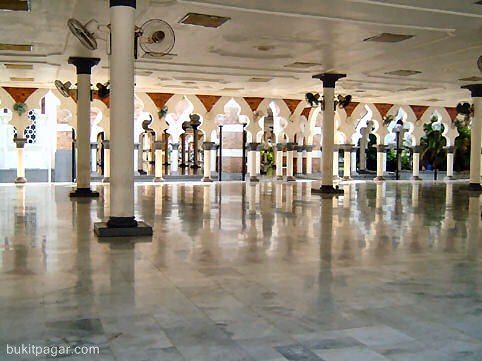 Jamek (Jamik) is derived from Arabic. It means a place of congregation for religious purposes.
For the important imams there is a special parking place in the area
of the mosque. Placards indicate for which imam the parking place is
intended.
The access to the mosque is of course free. You can do a donation at the end, however. These are of course not at all oblige. The
donation box stands even concealed established.
Stay duration at the mosque: