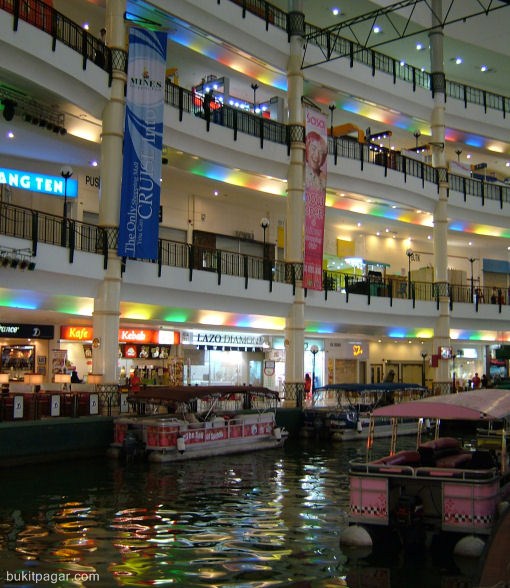 The story started a hundred years ago, when a Chinese immigrant Chan Wing came to Malaysia and discovered tin ore in a site abandoned by Europeans earlier. This became the largest tin mine in the world.
Mining in the area left a gaping hole 2 kilometres long and a kilometre wide, and 200 meters deep. Gradually rain water began to fill the crevice and thus was the humble beginning of the two great lakes you can see today.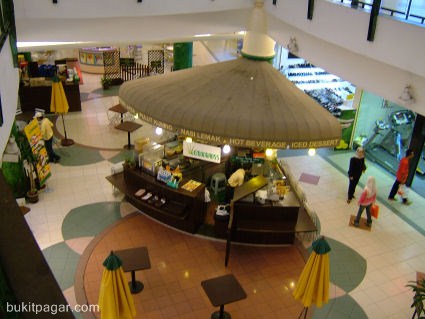 In 1988 a man with a vision, Tan Sri Lee Kim Yew built Mines Resort City (MRC), with the seven wonders of Malaysia you see today linked by boat cruise for all people to enjoy the beauty of water on the lake with luxury entailing.
There are two main lakes in the Mines Resort City and this posed a slight problem to the engineers linking the whole lake together through the water transport system. Both lakes were at different height levels. To be precise: 7 meters. Thus was developed the unique water lock. The North lake is 7 meters lower than the South Lake.
The water taxi's are departing in the middle of the shopping centre. A ticket for the cruise can be bought at the counter. The taxi's depart daily from the grand canal. Specially a boat trip in the North Lake is special. You'll pass the Mines Wonderland, the Golf Course, the Palace of the Golden Horses (hotel).
Dr. Mahathir owns a house at this lake.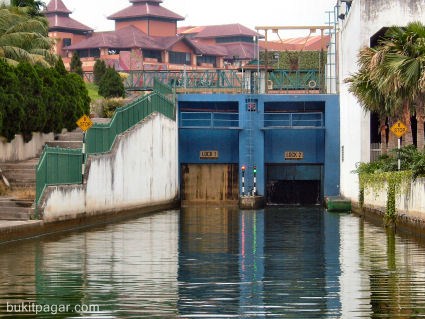 Both lakes are connected via a 1054 meter canal. The entire system took 1 years to build at a cost of RM15 million.
It takes 7 minutes to discharge or refill water and the volume of water in the lock is 61600 gallons.
At the right you see lock 1 and lock 2.
Both gates are blue. The lock at the right has been opened for the boat. The one on the left is discharging water: a boat must be coming down.
The lock gates work on a hydraulic system. There are 3 types of safety feature: Manual lock, Mechanical lock and Hydraulic Emergency system.
The entire system was designed by the Design Institute of Water and Conservancy & Hydropower of Inner Mongolia Peoples Republic of China.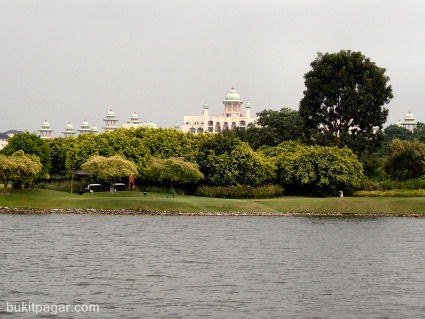 The Palace of Golden Horses
Palace of the Golden Horses is situated on the shores of a magnificent 150-acre lake in The MINES Resort City. Just minutes from Kuala Lumpur city centre, this luxury hotel with 480 rooms and suites offers a harmonious blend of Moorish architecture and Malaysian culture. It is the ideal setting for experiencing the wonderfully rich and diverse heritage of Malaysia.
Strategically located in The Mines Resort City, the hotel is 20 minutes drive from Kuala Lumpur city centre.
It is 35 minutes from the Kuala Lumpur International Airport (KLIA).