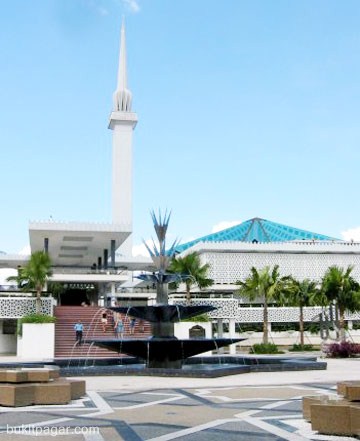 This uniquely designed mosque embodies a contemporary expression of traditional Islamic art, calligraphy and ornamentation. Its most striking feature is the multi-fold umbrella-like roof which symbolises the aspirations of an independent nation. Standing prominently against the skyline is the sleek and stylish 73m high minaret.
The central roof appears to be first glance a partially unfolded umbrella.

The building itself includes a hall, a mausoleum, a library, offices, an open courtyard and a minaret. The Grand Hall is surrounded by deep veranda's. They provide a praying area and can easily accommodate up to 5000 people.
The mausoleum, situated at the rear of the mosque, stands in a circular reflecting pool and is connected to the main building by a covered foot-bridge. It is circular in shape and is covered by a pleated shell concrete dome similar in shape to that of the Grand Hall but with only seven folds, one of which covers a reserve for the national hero¡¦s tomb.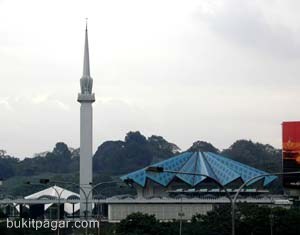 The mosque stands diagonally opposite the Kuala Lumpur Old Railway Station in a five hectare landscaped garden. It's reputed as one of the more beautiful mosques in South-east Asia.
The umbrella-shaped dome, with 18 points representing the 13 states of Malaysia and the five pillars of Islam.
The minaret is 73 meters high.
Visitors are advised to observe the rules of dressing and decorum which are listed at the entrance.
The mosque can be contacted at +603-2693 7905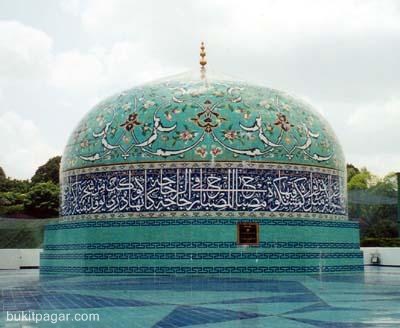 National Mosque Kuala Lumpur