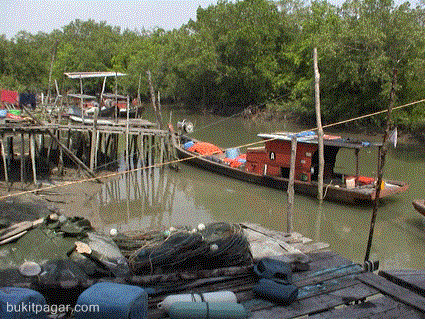 By train (KTM Komuter) it will take an hour and a half to Pelabuhan Kelang. The train stops at every station and you will enjoying a nice trip through the Klang Valley. In Klang you will take the highspeed ferry to Pulau Ketam. Its only a half hour ride ( 12 nautical miles) away from the hustle and bustle of Port Klang.
There are two villages on the island, separated by jungle. They are Pulau Ketam Village and Sungai Lima. There are no roads between those two villages. They say, the people on this island earn their living with fishing and smuggling.
When you arrive in Pulau Ketam Village you'll see the biggest sea-food restaurant on the island: Kuai Lok Hian. The population (only 8000) is mostly Chinese (Teochew, Hokkien and Hainanese). The houses are all built on stilt above the mangrove swamps.
Most people come to island for just one day. There is only one hotel, and if you like, you can stay at the fish farm or at an homestay The island is popular for its crab and other seafood.
This rustic fishing village attracts visitors with its unique stilt-village, where the wooden-board streets are just five-feet across. The traffic consists largely of pedestrians and bicycles. On the island are a clinic, schools, a bank, a church, a mosque, a police station and some pubs.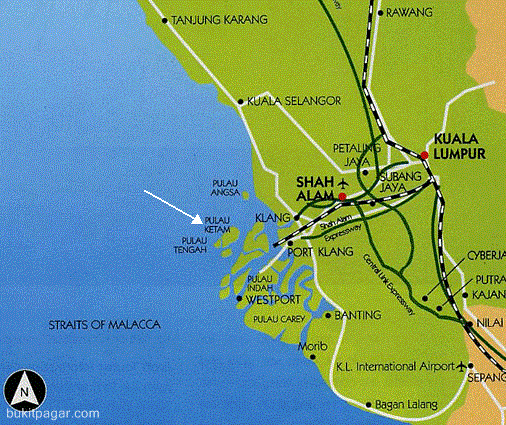 Pulau Ketam is strategically situated in a stop-over point for fishermen en-route to the rich fishing grounds beyond. The island is now a prospering fishing village with a bustling harbour that is frequented by scores of floating vehicles, ranging from wobbly sampan (small row-boats) to 'clonking' fishing boats and tongkangs (lighters).

Although the island doesn't offer a vast territory to explore, it is an interesting village compact with recreation spots, captivating scenes, 'bewildering' seafood and the most important, a community of warm, gentle people.

Just go to Pulau Ketam for its fresh crabs, prawns and fish. It is indeed a seafood gourmet's paradise!
We had a wonderful crab dinner in the mainstreet of the island.