The tax free island of Langkawi has beautiful resorts. The island has many coves, lagoons and inlets
make it ideal for all kinds of water sports such as swimming, sailing, fishing and scuba diving.
The isles of Langkawi - ninety nine of them, are tucked into the northwest corner of the peninsula and nestled on the Thai-Malaysian sea border. Unspoilt and rustic, it is a tropical paradise spectacularly endowed by nature, one where crystal clear emerald waters, azure skies, lush green vegetation and fantastic limestone formations can be found.
On this map you can find the location of your resort.
The range of accommodation at Langkawi is wide-ranging and caters to budgets of all levels. It includes five-star hotels/resorts such as the Andaman Resort, The Datai, Sheraton Langkawi Beach and Perdana Resorts.
There are also budget-style accommodation including family chalets and government rest houses .
All hotels are strategically located along luxurious seafronts.

Also the capitol city of Kuah and the International Airport are on this map. Are you staying in another hotel or resort? Please let me know, so I can complete this list.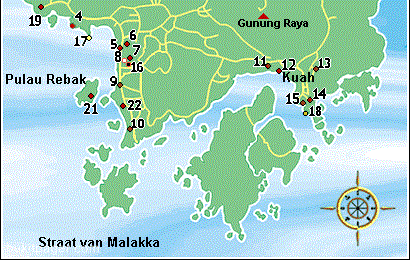 Of the 104 islands, only two are populated. Langkawi is one, and it is by far the largest island of all, at around 478.5 square kilometers. The interior of the island is hilly with dense forestation. Hardly surprising, as its equatorial climate favors plants with thick foliage. It sees lots of rain from April to October while its dry season is much drier than most areas of Peninsular Malaysia. Almost all the surrounding islands are not habitable as they are merely tiny deserted atolls