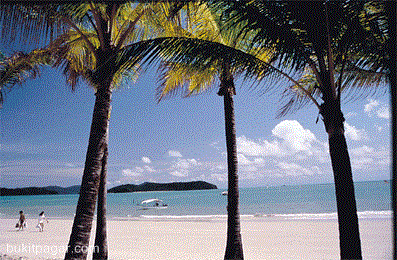 Getting to Langkawi:
By Road:
For those who are driving down from Kuala Lumpur, Johor Bahru, Singapore, and other places on main land, you may choose the nearest Jetty Terminal. There are signboards indicating the junctions to get off the highway, after reaching Kedah, look for the sign " Alor Setar Selatan" and "Langkawi". The journey from Kuala Lumpur to Kuala Kedah takes about 6 hours while Kuala Perlis is another one hour away.
After reaching, Kuala Kedah or Kuala Perlis, you may park your car at the private car park which will cost around RM 6 - 8 per day. Vehicle can only be brought over to Langkawi via cargo vessel ( at RM 160.00 return ticket) which will take 1 night to cross over, meaning the vehicle can only by retrieve the next day at Langkawi Port ( Tanjung Lembung )
Form Singapore, Johor and Kuala Lumpur, there's buses running daily trip to Alor Setar / Kuala Kedah. Please contact local bus operators for more information. There's another option is by train, KTM ( Keretapi Tanah Melayu ) which start it's journey from Singapore interchange at Kuala Lumpur all the way down to Alor Star Train Station and Arau (Perlis). From Alor Setar Train Station to Kuala Kedah Jetty Terminal with taxi will cost you about RM 18.00. From Arau to Kuala Perlis Ferry Terminal with taxi will cost you about RM 14.00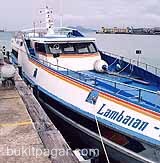 By Ferry
There are four departure points for visitors who opt to travel by boat or ferry to Langkawi and they must make their way to Kuala Perlis in Perlis, Kuala Kedah in Kedah, Georgetown on Penang island while tourists who are in Thailand will depart from Satun.
Most operate from 8.00 a.m. until 6.00 p.m.

From the jetty at Kuala Kedah, there are about five companies that provide ferry service to the island (trip time: about 1 hour and 45 minutes; cost: RM15,00). Ferries let you off at the main ferry terminal in Kuah, where you can take a taxi to your resort for between RM30,00 and RM40,00 .
If you're coming from Penang, the ferry is the way to go. Bahagia Express has a morning and afternoon speedboat from Weld Quay in Georgetown for RM35,00. Call them in Penang at tel. 04/263-1943 or visit their office across from the clock tower, just next to the main tourism board office. If you're heading from Langkawi to Penang, you can call Bahagia in Langkawi at tel. 04/966-5784.
Ilya mailed me:
We took the ferry from Penang to Langkawi several times. Also the return trip we made. Every time we got sick on the boat. This is the best solution:
When you go to the Langkawi you can better ask for a ticket in the star class. It will cost you RM 25,- for a one way ticket, but it's much better. You got a very quiet deck with excellent chairs. That was the the first time we didn't get sick.
EXPRESS BAHAGIA FERRY SERVICES
Kuala Kedah , Kuala Perlis , Penang , Medan , Langkawi , Pulau Payar.
Langkawi to Penang / Kuala Kedah / Kuala Perlis
EXPRESS BAHAGIA
04-966 5784
04-263 5255
Langkawi to Kuala Kedah
KPFS
04-966 6950
LADA
04-966 8823

Langkawi to Kuala Perlis

LPFS
04-966 7878
LADA
04-966 6929
Langkawi to Thailand
KPFS
04-966 7878