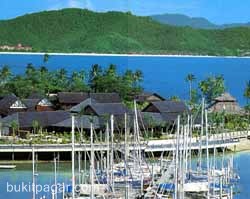 Langkawi is a famous tourist-leisure destination in Malaysia. It's famous for its beaches and snorkling and diving activity's. Langkawi consists of 99 legendary islands. One of these islands is Pulau Rebak.
It's situated in the south western part of that group, overlooking the Straits of Malacca and bordering the Andaman Sea. There's only one resort on this private island: Rebak Marina. The resort offers seafaring adventures and jungles discoveries for your holiday.

Pulau Rebak is situated not far from the main island. The resort baths by the sun. There's always a cool breeze and there's a lush of tropical surroundings on the island.
Rebak Island which measures 390 acres is accessible by boat from the the island's Langkasuka jetty point on a 10-minute ride away. Daily flights serve Langkawi from Kuala Lumpur, Singapore, Osaka and Taipei. Langkawi is also accessible by road from Kuala Lumpur at a distance of 486km and from Singapore at a distance of 830km.

Tristan v.d. Waart, a visitor of this site, mailed me about this paradise resort.
Tristan v.d. Waart:

The Resort, where we have been, was called: Rebak Marina . Far and away the best resort we've ever been. It's surrounded by jungle and it has a beautiful accommodation. Quit different than we are used to. You have to go by boat to the island of Rebak, which is a private island.

On the island there's also a little harbour, where ships can moor to the island. Thanks to this little harbour there's now a supermarket and a restaurant, where you can have dinner for reasonable prices - this in contradistinction to the resort restaurant which is only 100 yards away.

It's a pity that pictures, we got, can't reflect the atmosphere of this beautiful resort.
I'm convinced that everybody, who choose this resort for spending his holidays, won't regret it. The only disadvantage is, that this park, is on the approach path to the airport of Langkawi. Eight times a day you can hear an aircraft coming over on its way to Penang, but if you don't mind, it's a perfect resort to spend your holidays.
It sounds like paradise. This resort must be a recommendation to everyone, who visits Langkawi. Some of the excursions to make on Rebak:
Trekking
A strenuous excursion by foot while your senses bear witness to new and exciting adventures as you scale distances that set your heart pounding.
Birdwatching
Spot some of Asia's most exotic birds here at Rebak. Look out for the Oriental Pied Hornbill, Racquet Tail Drongo, Pacific reef Egret and many more. Maximum bird watching is 3 hours whether from 7am to 10am or 5pm to 8pm, binoculars included.
Fishing Trip
Take a relaxing time off to engage in one of the most soothing recreational activities. Grab a boat and go down into the nearby lakeside or beach to enjoy a fun-filled fishing trip.
Daytime Fishing
Trawling
Rebak Island Daytime Fishing
Rebak Island Night Fishing
Night time Fishing
Spot Fishing
Fly Fishing
Telaga Tujuh Excursion
Visit the best waterfalls in Langkawi at the Mat Chinchang forest and discover the history behind Telaga Tujuh. This 4 hour tour is conducted for a minimum of four persons.
Lubok Sembilan Excursion
Trek through the Gunung Raya forest and waterfalls, to the tallest peak of Langkawi at 911 meters. This 4-hour tour is conducted for a minimum of 4 persons.
Mangrove Area Tour/Cave Exploration Tour
Explore the depths of Langkawi's finest caves for the best holiday adventure ever in Indiana Jones' style. Visit Teluk Udang Cave, Pinang Cave, Cherita Cave, Tanjung Dendang Cave and others, 4 minimum and 8 maximum on boat charter
Mangrove Tour
Uncover the dark mysteries of the Langkawi's mangrove area without visiting your science books. A first hand experience awaits those who are willing to seek adventure in the most amazing places. Minimum of 4 persons inclusive of boat charter for 4 hours. Available daily from 8 morning to 12 noon. All excursions are available from 9am to noon in the company of experienced guides
Island Hopping/Discover Langkawi
The best round-island tour is available at RM230 per boat charter or RM60 per person for less than 4 persons at duration of 4 hours.
Island Drop
Enjoy a private time on a secluded island at RM35 per trip at a maximum of 2 persons per trip. Picnic basket can be arranged by room service upon request. Available daily from 9am to 3pm.
Complete Body Theraphy
If you're all weary from a full-day of activities at the Resort or just arrived here and seeking for a relaxing activity to get over that busy working week, drop in at the Resort's parlour which offers various types of massage and therapy. They include :
AromatheraphyMassage
Shiatsu Massage
Foot Reflexology
Traditional Massage
Cycling
Discover Rebak Island on wheels and cycle past palm trees, Malaysian greenery and seaside. Further information available at the lobby.
Mountain Biking
Explore Malaysian hills, slopes and mountainous terrain on a 4-speed mountain bikes that'll take you back to the days of carefree adventure and fun.
Tennis
Outdoor racquet smashing workouts are easily achieved at RM10 each hour inclusive of 2 racquets and 2 cans of tennis balls, from 8am to 8pm daily. Further conditions apply to damage and loss.
The Harbour Store Shopping Arcade offers a shopping spree for those eagerly seeking mementos from their visit.
The island's excellent beaches are the pride of the Rebak Marina Resort with crystal clear waters lapping on the shores that never fails to bring wonderment even to the most esteemed traveller