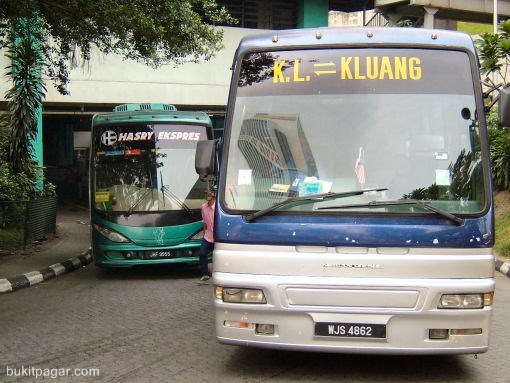 The bus to Melaka leaves from the busy Puduraya bus station, close to China Town. The bus company is called Transnational, but that's not the only which leaves to Melaka. Other bus company's are Metrobus and Delima Ekspres. Transnasional drives most frequent.
The first bus leaves at 07.00 for a non-stop trip to Melaka.
Other buses go via Segamat, Gemas and Tampin. They leave every hour from 8.00 till 22.00. The trip takes approx. 2 hours.
In 2006 was the fare RM8,00.
Transnasional
Puduraya Bus station
to Melaka
via Segamat, Gemas Tampin
08.00 - 22.00
every hour
Daily
RM8,00
Puduraya Bus station
non-stop to Melaka
07.00 hour
Daily
RM8,00
Please Note: Changes to fares and time schedules are at the discretion of the bus/coach operators.
Please contact the operators for most updated information.
Phone numbers for information: (03) 2070 33 00 of (03) 2078 2563

The return trip:
Departure from the Perhentian Bas Station at the Jalan Tun Ali. The fare is RM9,50
The phone number for information over the departure times (06) 2920687 and (06) the 2922307
below the departure times of the Transnasional, but there are several company's, which go to Kuala Lumpur, like Metrobus and Delima Ekspress
Transnasional
Perhentian Bas
Jalan Tun Ali
to Puduraya Busstation
07.00, 08.00, 09.00,
09.30, 10.00, 11.00,
11.30, 12.30, 13.30
Daily
RM9,50
Please Note: Changes to fares and time schedules are at the discretion of the bus/coach operators.
Please contact the operators for most updated information.
Phone numbers for information: (06) 2920687 and (06) the 2922307
Other destinations at the bus station of Melaka:
| | |
| --- | --- |
| Ipoh | Jerantut |
| Johor Bahru | Kota Bharu |
| Kuantan | Kuala terengganu |
| Seremban | Singapore |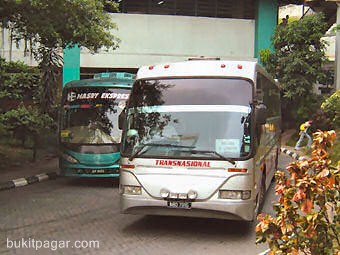 Bus of The Transnasional