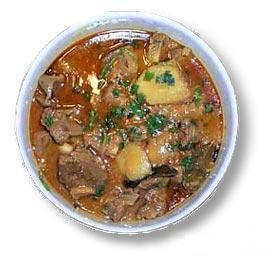 This a recipe form India, but in cooked in Malaysia. Kurma has come to represent a very mild dish with a heavy cream sauce. The word 'kurma' actually means that the chicken has been cooked by slow cooking. After initially sealing in the juices of the meat on high heat, the meat is then slowly cooked in a closed pot or pan and only very little fluid is added. It is not necessarily mild - it can be as hot as you please. Kurma is Mogul from origin and in the north of India where they became established, a wide array of kormas are served.
INGREDIENTS:
600 gram chicken
2 cup thin coconut milk - extracted from 1 grated coconut
1 cup thick coconut milk
½ cup oil
2 star anise
2 red chillies
3 cloves
cardamoms
3 cm piece cinnamon stick
3 cm piece ginger
4 cloves garlic
6 shallots
4 tbsps kurma powder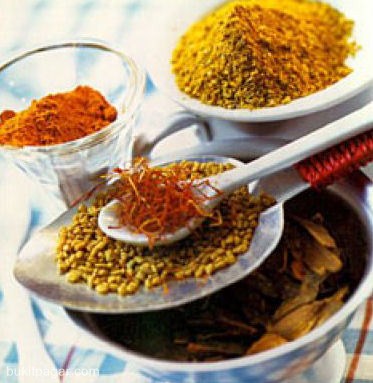 Indian spices
PREPARATION:
Pound 3 shallots and 2 cloves garlic together.
Mix with kurma powder and 1 tsp water. Blend well into paste.
Slice finely the remaining shallots and garlic.
Heat oil and fry the sliced shallots and garlic with the spices until fragrant.
Add in the blended kurma powder and fry further until oil separates.
Add in the chicken and 1 cup water. Cook until the beef is tender.
Pour in the thick coconut milk, bring to boil and pour it in the thin milk.
season with salt to taste and cook further over a low flame until the gravy is thick.
Add in the large onion and red chillies. Stir once and remove from rice.