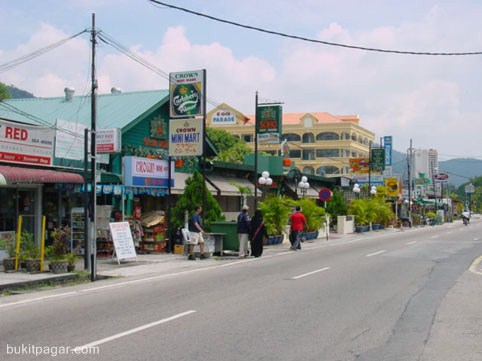 Batu Ferringhi
Batu Ferringhi has a several large resort, like Rasa Sayang, Golden Sands, Park Royal, Bayview etc. It looks like a new village, but it's very old. It used to be a kampong with a little fishing village. If you want to see a part of this old village you have to turn right when you have passed the Park Royal. Here you'll find the backpackers guesthouses of Ah Beng , Baba's , and the best place, Ali's , which has a relaxing open-air cafe and garden, and better rooms than the other ones. The guesthouses are facing the sea.
The main road runs more or less straight along the coast for 3km, on which all the hotels, tourist shop, internet cafe's, motorcycle rental offices and restaurants (House of Kampong, Deep Sea or The Last Drop e.o.), are lined up side by side. In the centre you'll find the Telekom office, post office, police station and clinic.
You can get to Batu Ferringhi by taxi, car or bus. It takes a thirty-minute bus ride west of Georgetown on Transitlink #202 or Transitlink air-con #93.
There is no bus straight from the airport (Bayan Lepas) to Batu Ferringhi. A taxi ride will cost you RM45.-

The beach itself is quite good, thought not up there with Malaysia's best and the water is not of the tropically clear variety you might expect. The beach is kept clean, even on weekends when hordes of day-trippers visit.
Bathing areas are often cordoned off by floating buoys to protect swimmers from speeding jet-skis and water-skiers. Jellyfish, particularly at rainy times, can be a problem.
Batu Ferringhi can be crowded and much of the greenery has been replaced by concrete, but also the advantages (plenty of restaurants, watering holes and recreation facilities). It has quite a lively resort feel, and there is a good night markets on the main road selling trinkets.
The big hotels offer good deals at times and cheaper accommodation is available if you want a few days by the beach.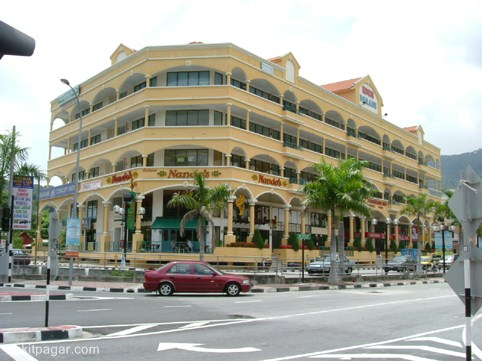 Restaurants, shops and KFC...
Batu Ferringhi has a few small shops selling souvenirs and beach necessities, in addition to several money changers and pushy Indian tailors. Stalls selling a variety of goods set up along the road at night. If you're looking for cheap clothes, fabrics, souvenirs, electronic items, watches, DVDs, CDs and more? Then the Pasar Malam along the road is the place for you.
A wider selection of articles and some sophistication at several air-conditioned shopping complexes in George Town. A taxi ride to the centre (Komtar, Pranging Mall - shopping complexes in George Town) will cost you RM25.-. A ticket for the local bus will cost you RM2.-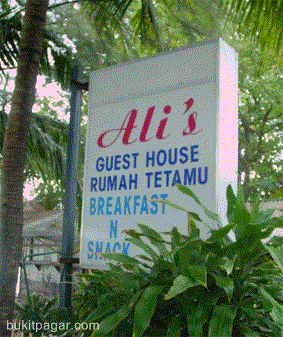 Guesthouse "Ali" has an open air bar
The rate of the hotels in Batu Ferringhi are expensive. There are some hawker centres in Batu Ferringhi, like Global Bay. This is a noisy Hawker centre with a big screen tv. It has a roof, but it's very noisy.
The cheap hotels are in Tanjong Bungah: Tanjong Bungah (Crown Prince, Copthorne Orchid, Paradise Sandy Bay, Tanjong Bunga Beach). These hotels have great offers (RM 100.- per room), but for night life you'll have to go to Batu Ferringhi of George Town.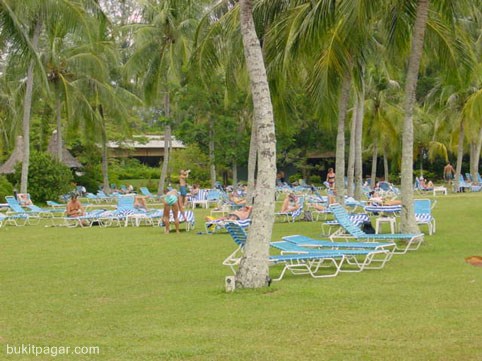 The Rasa Sayang Garden *****
The Bayview Beach Hotel is the last one in Batu Ferringhi. If you're going out at night, you'll have to walk a while (quarter of an hour) before you're in the centre of the village: the pasar malam. Perhaps that's the reason, why this hotel has great offers!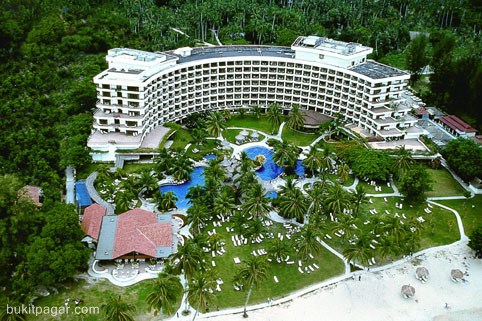 The Golden Sands*****
The Golden Sands is a family hotel. It has a social activity program and several swimming pools. They have a wonderful restaurant ""Sigi's at the sea", but if you don't like a hotel restaurant, there's a hawker centre opposite of the hotel (Global Bay). Beside the hotel is a narrow street, where you can lunch or let yourself a suit fit by a tailor.
The sister hotel Rasa Sayang is under renovation at the moment (picture below).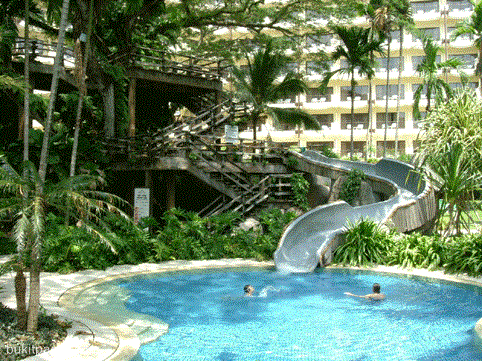 The Rasa Sayang (closed: renovation).