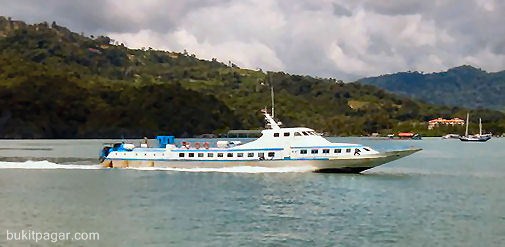 The ferry to Langkawi departs from the Swettenham Pier in Georgetown. This is close to Beach Street, Weld Quay, Clock Tower and Esplenade. Daily there are two ferry services from Penang to Langkawi.
Departure times are at 08.30 am and 08.45 am. The latter ferry is going via Pulau Payar. The duration of the trip is approximately 2 hours 30 minutes.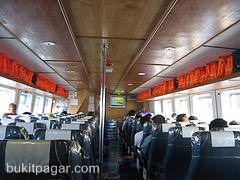 The Langkawi ferry departs from Swettenham Pier which technically is at Weld Quay, but you enter the departure lounge from King Edward Place which is next to Fort Cornwallis and very near the clock tower at Beach Street.
The ferry tickets are not sold at the ferry terminal.
Ferry tickets for Langkawi can be bought from the various travel agencies located in those low buildings on the right.
You can better buy your tickets one day ahead.

The return from Langkawi is at 2.30 pm and 5.30 pm. The ferry of 2.30 is going via Pulau Payar.

The Swettenham Pier is used also by international passenger cruise ships. It was also used as s backdrop for the movie Anna and the King, playing the convincing part of a 19th-century Siamese port.

Ferry Penang/Langkawi 2006:
Adult
Child
Infant
one way
RM45.00
RM30.00
RM20.00
two way
RM85.00
RM55.00
RM40.00

The above rate & time schedule will be subjected to change without prior notice.
Ferry Penang/Medan 2006:
Adult
Child
Infant
one way
RM90.00
RM45.00
RM20.00

The above rate & time schedule will be subjected to change without prior notice.

Departure times Penang:
Monday - Saturday: 9.00 am and 9.30 am
Sunday: 9.00 am

Departure times Medan:
Monday - Saturday: 10.30 am and 11.00 am
Sunday: 10.30 am