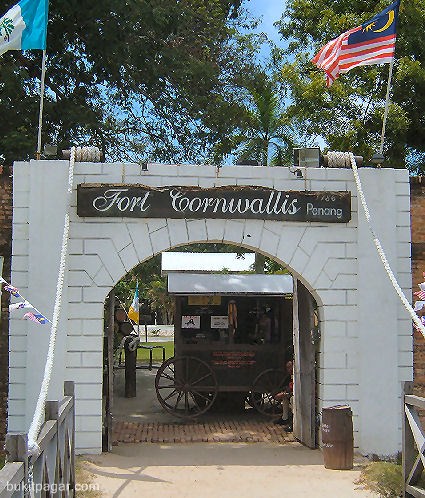 The star-shaped Fort Cornwallis stands at the place where Francis Light and crew landed on August 11th, 1786 to "take possession" of the island of Penang. Before that the island belonged to the Sultan of Kedah.
August 11th 1786 was also the birth date of Prince Charles and hence Francis Light named Pulau Pinang as the Prince of Wales Island.
At first the fort was made of a stockade of nibong palm trunks, but this was quickly replaced by a brick fort. In old paintings and postcards Fort Cornwallis can be seen surrounded by a moat and containing a number of buildings within its walls: of these the Christian chapel and a gunpowder magazine still stand. Fort Cornwallis is the best-preserved fort in Peninsular Malaysia.
Fort Cornwallis was gazette on 8 September 1977, under the Antiquities Act 168/ 1976, as an Ancient Monument and Historic site.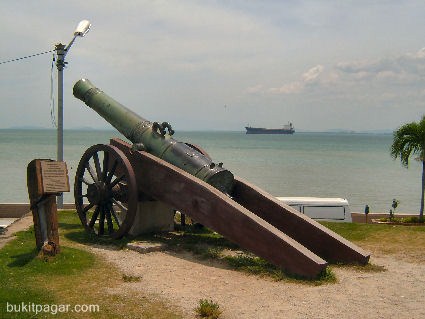 In 1805 there were plans to rebuild a fort further inland, but that would have meant demolishing the existing fort and half the commercial town!
The fort is one of the first European structures in Penang. Fort Cornwallis is probably the only remaining fort built by the British in this part of the world.
It was named after the Governor-General of Bengal, Charles Marquis Cornwallis.
Francis Light designed the fort to protect the harbour from possible French attacks.
At that time Anglo-French rivalry was at a peak. However, after the Anglo-French hostility ceased in 1816, the fort lost any semblance of significant importance.
Seri Rambai Cannon (above)
Inside Fort Cornwallis are numerous cannons and one of them is the infamous Sri Rambai, a brass cannon with an interesting history.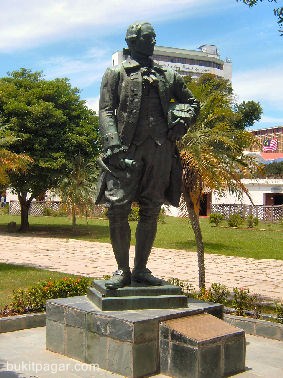 This cannon was presented to the Sultan of Johor by the Dutch. However, it was given to the Acheen and installed at Kuala Selangor.
Finally, this cannon was seized by the British and installed here in 1871.
According to a local believe, childless women can conceive by placing flowers in its barrel and offering special prayers.
The bowels of the fort contain a history gallery, a handicraft and souvenir shop, and an open-air amphitheatre, where local music and dance festivals are frequently staged.
The fort has become a popular destination among local and foreign tourists.

The statue of Francis Light, modelled after his son was relocated from the Penang State Museum to the grounds of Fort Cornwallis. The status now overlooks the fort and it holds a great heritage treasure in the heart of Georgetown.
Opening hours: 8:30am to 7:00pm daily
Admission: RM1.00 per person
Address: Padang Kota Lama,
10200 Penang, Malaysia
Stay duration at Fort Cornwallis:
approx. 1 hour