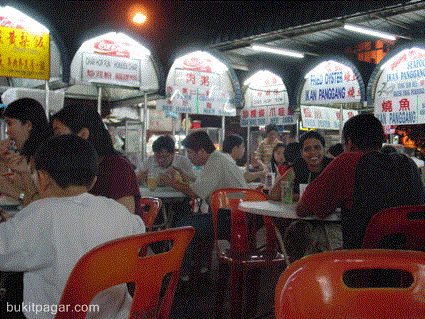 A hawker centre on Penang Road, near the Komtar, at 8 o'clock in the evening.
You can have dinner in Malaysia at any price category. The hotels with four and five stars have expensive restaurants with international cuisines, like: Western, Japanese, Italian, Korean, Thai, German. All against western prices.
Though is eating at Hawker Stalls recommended. It's very cheap, but you also learn a lot about the food of Malaysia.
And we can forget all those silly questions like: "Can I eat that food" or "Do get ill" For these question we don't have to worry in Malaysia. The restaurants are under control of the Department of Health. There is no need to be afraid, when you want to eat at the hawker stalls. Sometimes you see a sign in a restaurant, saying "approved by the Department of Health".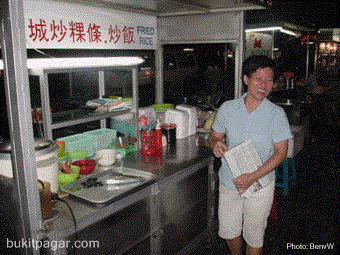 You can have water from the tap in Kuala Lumpur and Penang. And when I'm thirsty, well I drink.
But the water is not tasteful. It tastes a little bit to chlorine. So you better buy a bottle of Malaysian mineral water. Don't take the expensive, imported mineral waters. Just buy the Malaysians, but don't be afraid to brush your teeth with tap water.
Water, coffee, tea and lemonades are very cheap in Malaysia. The alcoholic drinks are expensive. A can of beer in the supermarket will cost you about RM 5. Drinking beer in a restaurant will double the price (about RM 8 - 10). The five stars hotels will charge you for RM 16 for a beer and RM 25 for a cocktail.In Malaysia live about 30% people of Malaysian origin, 30% people from India, and also 30% Chinese.
So we find beside Malaysian also Indian and Chinese restaurants. In Kuala Lumpur is the proportion: Malaysians 60 %, Chinese 30% and Indian 10%.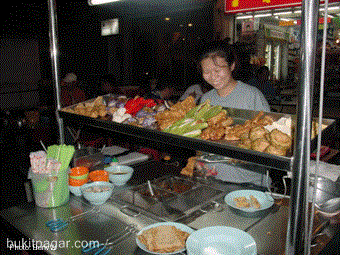 There's a divers variety in food. Specially Penang is famous for its food. Famous are the hawker centers at "Gurney Drive" and "Global Bay" on Penang.
Are you staying in Kuala Lumpur, then you must have diner in "Jalan Alor".
The experience of having dinner at a hawker center is enormous. When you go to Malaysia, you must have dinner at a hawker center. Hawker stalls offer variety of food and value for money.

Dinnertime is between 6 and 9 o'clock in the evening. Do you arrive later, than it could be, that you're favourite dish is sold out.
Some hawker center say that they are op 24 hours a day. But.....don't be seduced to eat late!!
What is the way to do at the hawker stalls

When you come in a hawker center you have to look for a table. Have you found a table, than you can sit down. Each table has a number. You have to remember that number very well, because that is important. Let's say the number of your table is 9.
When you look around you, you see a lot of hawker stalls. Now some of you can have a look at the stalls and order what you like. For example: chicken at stall A , nasi kandar at stall B, satay at stall C. Each time you say at the stalls: my table number is 9 or I'm sitting over there!
The cooks are going to prepare your food. Some moments later they will serve it at your table and you have to pay each time they bring a dish.
Every hawker stalls sells something else. One prepares fish, the next serves pork, the third vegetarian, the fourth vegetables, another one sells drinks or Indian food. There's a large variety of food.
Because it's difficult to choose and the dishes come quickly, it's better to have someone sitting at the table with money. He can pay every time a dish is served. The prices of the dishes are between RM 2 and RM 6. When you return to your table some, you will notice, that there are already so many dishes. Enjoy your meal! Tipping is not recommended!
When you look closely, you'll notice that the fish is on a blue plate, pork at a white, vegetarian on a green plate. Each hawker stall has his own color. When you're dinner is over, they can easily find their own plates again.
Penang is gourmet's paradise. Specially when it comes to hawker food. Two well known hawker centers are "Gurney Drive' and "Safari", near One Stop shopping complex. A good way to start your culinary adventure is to ask for the recommendations of the locals. Penangites are very passionate about food!