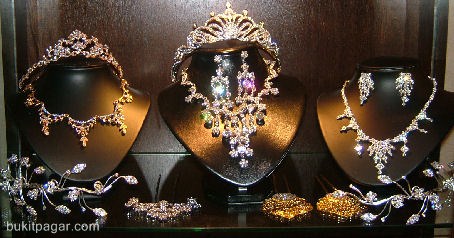 In Penang you can celebrate your dream wedding in a tropical garden setting, against a backdrop of a shimmering blue sea framed by swaying palms and luxuriant flowers - literally a world away from the everyday.
If you're planning your honeymoon, you'll find in Malaysia a host of romantic holiday settings for a honeymoon that will bring lifelong memories. Azmans and Pak Su's advice will help you to choose the venue or itinerary that's just right for you.

The bridal shop of Azman and Pak Su in Batu Ferringhi (Penang, Malaysia) has a lot to offer.
You can choose your own package.

For example:
- Bride Dress from RM350 - RM600
- Bride place from RM500 - RM3000
- Make-up from 100 - 250
- Photographer (3 rolls) RM 450 (outdoor and indoor)
They can also arrange:
- "kompang"-music (Malaysian Traditional Music)
- Henna
- Axcer Girls
- and everything about a wedding..
Wedding Package Cost
'Wedding Packages' in Penang start from RM 1100,- per couple.
(Euro 235.- US 315.- AUD 395.-)
This package includes:
Wedding dress
Make-up
Accessories
Beautifully decorated chairs: Pelamin
Ask for other wedding packages.

You'll find the shop Cahaya Cinta opposite the Golden Sands, behind hawker centre "the Global Bay".
Operation time: every day from 11 am till 8 pm
Closed on Wednesday.
Further information:
Email: azman.paksu@gmail.com

Address:
Aras 1, S-1-6
Ferringhi Mutiara Apartment
11100 Batu Ferringhi
Penang
Malaysia.

The Malay marriage is a regal affair. The bride and groom are treated as king and queen for a day.
The pre-wedding meeting between the bride's and the groom's parents will determine the dowry that is to be given to the bride as well as the date of the solemnization.
This may be as early as a year before the wedding itself so that arrangements could be made in advance. Often the wedding is held on one convenient weekend so as to accommodate relatives who live far away and to reduce costs. The henna application ceremony is held prior to the wedding. The bride's palms and feet are 'decorated' with the dye from the henna leaves. Sometimes this is followed by the costume changes and the bride and, less often, the groom will don different clothes for photography. The raised dais will be beautifully decorated for the purpose.