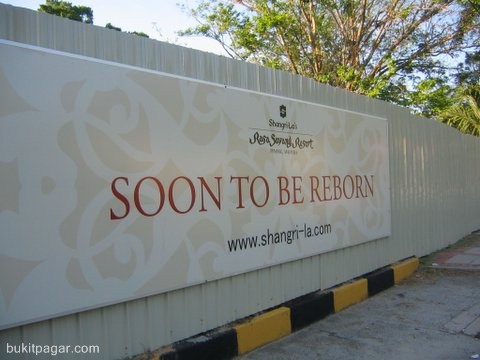 Rasa will close on 1 December 2004 for a period of
18 - 24 months for complete redevelopment
and repositioning.

The hotel will move from 512 rooms to 306
and will change all its banqueting space,
swimming pools, restaurants and bars,
lobby areas and will build a state of the art "Chi" spa.
The most famous hotel on Penang is the Rasa Sayang. In 1985 it was pronounced to be "the best hotel in the world" by the British Tourist Organizations. And we think it is! The Rasa Sayang Resort has an excellent service and luxurious, traditional Minangkabau-style guestrooms. All with private balcony's.
When we came for the first time (1988), we were overwhelmed by such a hospitality. When we lay down in the picturesque garden at the pool, they came to you with cool towels for your hands or face. Another time they came to offer you fresh fruit: pineapple, papaya, melon. The cool towels are disappeared, but they are still offering you fresh fruit in the garden.
A new wing has been build (Garden Wing) with spacious luxury rooms. Also a another swimming pool has been made, complemented with a slide from the three-storey tree house. It offers all the tranquillity of a tropical paradise.
The Resort is nestled 15-acres of lush gardens, along the finest stretch of the Batu Ferringhi Beach and just 20 minutes from Georgetown. There's a huge selection of activities: you can play tennis on one of the three floodlit courts, perfect your golf putt, and swim, sail or windsurf off the beach. There are daily organized recreational and social activities, which include jungle walks and golf putting sessions. At the health club, you can work out on the latest equipment in the fully-equipped gymnasium or relax with a sauna, jacuzzi or massage.
There are eight outlets for dining of which the Japanese restaurant "Waka" is excellent. It was pronounced to be one of the best restaurants in Malaysia several times.
After spending eleven years of our holidays, we are "houseguests". This means, that we get a special treatment. We're invited for a special "welcome home" cocktail party, we get cake and beer on arrival. Sometimes they ask us for a day out. To us: this resort has a special place in our hearts. It will forever "the best hotel in the world".
A photo impression:
| | | |
| --- | --- | --- |
| | | A Philippine band is playing during the "Happy Hour" at the Poolbar (new swimming pool). |
| | | |
| --- | --- | --- |
| The swimming pool at the "Garden Wing". At the background you see a slide, which starts in a three-storey tree house. | | |
Sonny, serving during the Happy Hour.
At the background the Philippine band.
| | | |
| --- | --- | --- |
| The "old" swimming pool at the "Main Wing". Here's also a Jacuzzi and you can have a swim. | | |
Almost all the hotels in Penang can arrange for day trips to a number of our nearby islands where snorkeling can be done in crystal clear waters. The snorkeling equipment is provided especially on the tours organized by Langkawi Coral which takes you to a beautiful coral island called Pulau Payar. The sea off Batu Ferringhi and Tanjung Bungah is too close to the merchant sea lanes and thus, not really suitable for swimming even though the locals do that all the time. Penang is a very busy port and they pay the price of progress. The presence of jellyfish in their waters (especially off Batu Ferringhi & Tanjong Bungah) is "seasonal" but the problem is, that no one can predict, when they will arrive and leave. Also these "Portuguese men-of-war" (as jellyfish is often referred to) have something in common with "Batu Ferringhi" which in Malaysian means "Portuguese Rock