Since this summary is quite long, I have decided to submit it in 5 parts.
The other parts are:
Part 2 = Getting around,
Part 3 = Shopping & eating,
Part 4 = Island sightseeing & excursions,
Part 5 = Mainland & offshore excursions.

As you read these summaries, please keep in mind that I'm an early retiree (1), was traveling alone (2), was in Penang for 2 months so did not stay at a hotel (3), rented a condo at the Eden Fairway condo complex at Batu Ferringhi , that I was there on a limited budget (4), and got around by using local buses and walking (5), and didn't use any taxis at all (6).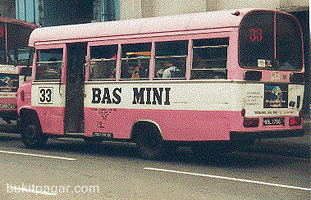 Maps:
Being an independent traveler, a good set of detailed maps is a must for me to help me get around. The best Penang map package I found was the "Penang Bus Map & Motoring Guide" by Compass, red of color and cost RM 8, available at Popular Book stores, but alas, sadly outdated (1996). One glaring error on the map, especially for those stationed in Batu Ferringhi and using the local buses headed into the city, is that the eastbound bus routes toward Komtar do not come in on Burmah road as shown on the map. Burmah Road is a one-way west-bound street, so the buses come in on Jalan MacAlister at Jalan Perak. If I wanted to shop on Burmah Road on my way into the city, I had to get off the bus on MacAlister and then walk to Burmah Road from there. Going back to Batu Ferringhi was fine as the west-bound buses do use Burmah Road.

Public bathrooms:
Many are squat toilets, often very dirty and smelly, including the one at MacDonald's in Komtar, so limit your liquid intake when you're out and about!

Money matters:
I found that the ATM exchange rates were just as good as the rates at the money changers, especially for Canadian travelers checks. Many won't take Canadian travelers checks. The preferred currency seems to be US dollars, as usual. Warning - if using money changers, be sure you confirm the exchange rate before you endorse your travelers checks as I heard of an incident where a money changer changed the rate after the checks were endorsed. There is only one bank and ATM in Batu Ferringhi, the Southern Bank in the Mutiara Arcade one block south of the Golden Sands hotel. Note that ATMs often runs out of cash on local paydays, so get your cash before then! You may want to have a small supply of US cash to exchange at money changers for emergencies.

Local language:
Try memorizing and using these few basic local language phrases, you'll likely be rewarded with a big smile by the locals! Useful Malaysian phrases
- terimah kasih (thank you, note that the 'e' is often silent in Malaysian so this is pronounced t'rimah..),
- jumpa lagi (see you later),
- selamat (s'lamat) pagi/malam (good morning/good evening.
- si sieh (thank you in Mandarin)
- nandri (roll your 'r') = thank you in Tamil
I'm not sure if I spelled these correctly.

Used pocket books - Batu Ferringhi :
There's a guy who has a night market stall in front of the Holiday Inn who has a fair selection of used English pocket books in that he sells for about half the new price. He will also do 2 for 1 trades if you ask him, ie 2 of your old books for one of his. Only problem is there's some nights he's not there. Just keep going back until he is.

Massage - Batu Ferringhi :
I had a good 'body' (only) massage at the reflexology/massage place in the Mutiara arcade, lower level, cost RM 50 for about 50 minutes..

Internet Cafes - Batu Ferringhi :
The only one at the Golden Sands end of the strip is east of the hotel and across the road at the end of the strip of restaurants there. He charges RM 8 per hour. There's a cheaper one (RM 6 per hour) at the Holiday Inn end of the strip in a small strip mall behind the Moghul Arch restaurant.

Laundry - Batu Ferringhi :
The best/cheapest place to take your laundry in Batu Ferringhi is to Kim Kim's laundry on the strip past the Holiday Inn & Park Royal, right across the street from the art gallery. It's set back from the sidewalk so easy to miss. If you don't need things ironed, they charge RM 5/kilo for wash, dry and fold.
If you need things ironed, they charge by the piece, ie T shirts and shorts = RM 1.50 each. They offer next day service and their daily hours were 9 am to 2 pm, and 7pm to midnight, closed in the afternoon. Recommend you avoid the many laundry 'depots' in the various shops in Batu Ferringhi. Their prices are higher and will usually only take laundry by the piece, not by the kilo. If they do take laundry by the kilo they generally don't have a scale, so not a good idea to leave your clothes there. Some of them are also 'home' laundries, where the clothes are dried outside in the sun. Not a good idea, stiff and wrinkled.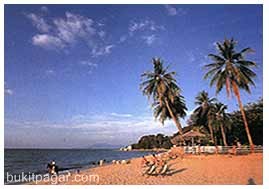 Beauty salons:
Hair cut prices were fairly high in Batu Ferringhi, therefore went to a great/cheaper beauty salon at 213-B Burmah Road in the city called Camee. Ran across it on one of my city walks. The friendly/experienced owner (Andy) did a great job of cutting my hair for only RM 18 (without shampoo).

Festivals & Events:
Thaipusam Hindu festival - pierced bodies rather gory if you have a weak stomach, temple site very crowded but very colorful, beautiful saris to be seen and colorful Indian goods and foodstuffs for sale.
I didn't have the courage to go to the flea market in the city to actually see the piercing before the procession started! Also didn't go to into the temple because of the crowds (I'm claustrophobic).

Nightlife:
If you like great traditional Country and Western songs or evergreens (oldies) by a live band and you like dancing the country two-step or line dancing , you'll love Rozells, a great little place popular with locals right on the beach in Tanjung Bungah. They had the country music on Friday and Saturday night for sure, not sure about other nights.