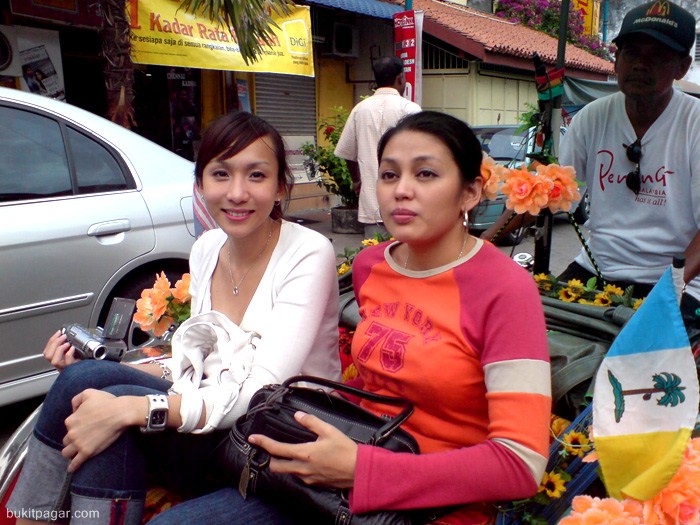 Local buses:
Using local buses was often a frustrating experience, especially at first, as there are no printed bus schedules available. Several companies are operating including minibuses, most fares confusing and not posted (by zone/distance), time schedules often erratic and unpredictable, bus drivers were generally surly and unhelpful. They drove like maniacs, some like to add 10-30 sens as a 'tourist' fare, if you didn't know what it should be,
and not all bus stops are obvious or well placed (ie at the major malls). A positive note - the 'dispatcher'
(a middle-aged man with a clipboard) at the big Komtar bus terminal was quite helpful, when I was confused about which bus to take. The only 2 bus companies serve Batu Ferringhi are Hin bus #93 (fare to/from Komtar RM 1.40, schedule about 20 minutes), and Transit Link (TL) #202 (a/c, fare to/from Komtar RM 1.70, schedule about 1 hour). Both of these buses go on to Teluk Bahang. No minibuses serve Batu Ferringhi. They charge a flat rate of 80 sens, regardless of distance.

George Town free shuttle bus:
These free/modern a/c Georgetown shuttle buses go near all the major sites and shopping areas in the historic downtown area. They're supposed to run every 12 minutes but I occasionally waited 20 minutes for one at the end of my stay. A bus schedule is invaluable but the drivers don't always have some. I had to convince the driver to give me his personal schedule the first day I rode. There is a shuttle bus map/schedule in the monthly Penang Tourist newspaper but it's not as detailed. There are 20 stops, nos 1 -10 = Jeti to Komtar, nos 10 - 20 = Komtar to Jeti on a different reverse route.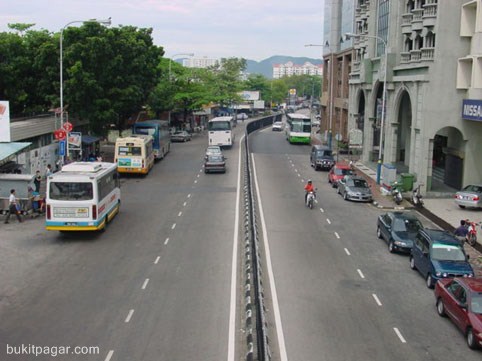 Taxis:
I never used any, while I was here and I rarely do when the drivers refuse to use their meters, as is the case here. Apparently, the day fare between Komtar and Batu Ferringhi is RM 20, more for night trips. One must bargain the fare with each driver. Recommend if you find a good/fair driver, get his hand phone number and keep using him!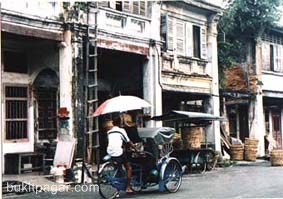 Walking woes:
Pedestrians definitely do not have the right of way in Penang. So walking and crossing streets is a dangerous and scary experience, because there is so much traffic with many drivers speeding. Since there aren't always sidewalks, pedestrians are forced to walk along the curb, or edge of the road, which is very dangerous as the many speeding/maniacal motorbike drivers tend to 'own' the curb lane and road shoulders.
Even when there are sidewalks, pedestrians are still often forced to walk on the street, because motorbikes are parked on the sidewalk, especially in the city. There are few controlled crossings for pedestrians, so one has to make a frantic dash across the road/street, when there's a break in traffic, all the while praying that a speeding motorbike won't appear out of nowhere to pick you off! This is especially bad for the elderly and handicapped people who are not fleet of foot.
Tip - when walking along the curb, or road shoulder, always carry your shopping bags and wear your shoulder bag across your body on the side away from passing traffic to deter motorcycle bag snatchers.