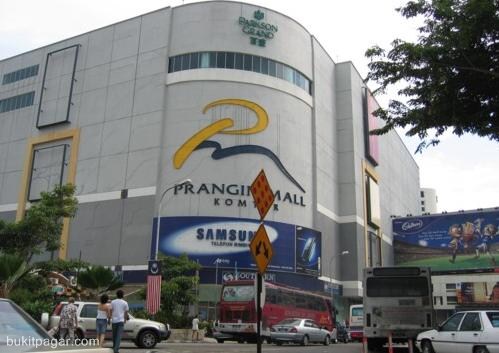 Shopping centers/malls:
Komtar - don't miss the Komtar Bazaar for discounted merchandise.
Upmarket malls with name brands, imports = Midland One-stop (aka Looking Good, Pulau Tikus), Gurney Plaza , Prangin mall (close to Komtar), Island Plaza (Tanjung Tokong).
The closest supermarket to Batu Ferringhi is in Island Plaza, not a bad supermarket, has a basic bakery, great cakes you can buy by the slice.
Komplex Bukit Jambul - near Sunshine Square in Bayan Baru, not bad, mostly locals place.

Department Stores:
Sunshine Square - Bayan Baru:
My favorite, local goods at local prices, popular locals shopping place, excellent prices, clerks friendly/curious .good supermarket on the lower level with a great produce dept (the best in my opinion), beer and soft drink prices cheaper than Komtar and Batu Ferringhi.
There's a well-stocked liquor/tobacco shop across from the supermarket. I bought a large bottle of Bacardi Lemon rum there for RM 76, considerably lower than the RM 96 I paid at a minimart in Batu Ferringhi. They have a large selection of wine for you wine lovers! They also have a good selection of cigarettes, paid RM 49 for a carton of Marlboros. There is also a pretty good bakery next door to the liquor shop. How to get there by bus - take TL #303 (rm1 from Komtar) or minibus #25a (80 sens). There might be others. Any bus that goes to the airport likely passes by this mall.

Gama:
Near Komtar, not bad, mostly a locals place. It has a supermarket. Cigarette, beer, liquor and soft drink prices are as good as the prices I found at Sunshine square. So if any of you are staying in Batu Ferringhi and happen to be in the city, you may want to stock up here and avoid the inflated prices at the minimarts in Batu Ferringhi.
.
Kamdar Dept store:
If you sew, go this this department store on the east end of Burmah Road in the city. It's the best place for fabrics, in my opinion. Large selection on several floor including decorator fabrics, great prices, especially in the bargain center on the ground floor. I bought 22 meters of fabric in the bargain center for total RM 74! They sell clothing for the whole family as well.
Markets etc:


The main ones in the city are Penang Bazaar and the Chowrasta markets, both on Penang Road and near each other, close to free shuttle bus stop # 12. Note that many stall on the upper level at Chowrasta don't open until noon. Penang Bazaar is very crowded, has lots of clothing and fabrics. Check out Sam's Batik shop while you're in the area, it's on the corner of Penang Road and Chulia. Lots of neat stuff in there.

Other shopping:
In the city = Little India for fabrics and Indian clothing (I found the shop owners quite pushy here), and Chulia Street for 'hippie' clothing etc, especially the west end near Penang Road. Campbell street has many shops selling everything from household goods, plastics, shoes, to fabrics (but not as cheap as Kamdar). Free shuttle bus stop #8 is near there.
Bakeries:
Agree with Kayes, the best one by far is the Continental Bakery on JL Nagore, just off Burmah Road in the city. Jl Nagore is 1 block east of the big Giant supermarket on the corner of Burmah Road and Jalan Anson.
Turn north at the big orange sporting goods store on the corner. It's a clean a/c place and they also have a lunch counter with tables and chairs, if you want to have a bite to eat (great place for lunch). My next favorite bakery was the one in the Adventist Hospital which is across the street from the Midland/1 Stop shopping center is Pulau Tikus. It's just inside the entrance, which is to the left of the main entrance to the hospital. They have great muffins and cinnamon buns. There are bakeries in all the supermarkets as well.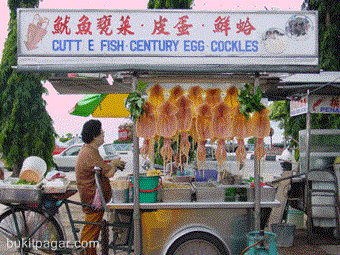 Eating:
Food and eating out isn't a big factor for me on my trips so I haven't much to offer here! Some of the places where I did eat out in the city = Mandarin Cafe (food court) at Komtar (lower level) - good, cheap; Kek Seng Cafe across the street from Komtar, apparently popular place for Ais Kacang (sorry folks, I didn't care for it, tried it twice); New Lane Hawker center in the city - a busy/noisy place, great 'cultural' experience.
In Batu Ferringhi, I only ate at 3 restaurants - Happy Garden (lunch twice, great mie goreng with a slight taste of ginger in the sauce), Last Drop (several times, friendly staff, mostly had mie and nasi goreng which were fine), and Eden Seafood (great upmarket place for a special event). The rest of the time I ate at the Long Beach hawker center or the Matahari hawker center next door in Batu Ferringhi. At the Long beach, my favorite stall was the satay stall. At the Matahari it was the Pure Vegetarian stall and the nearby spring roll stall.