Transport
There are daily flights of Malaysia Airlines from Kuala Lumpur to Kota Kinabalu, the capital of Sabah. The airport is an international hub of Malaysia Airlines on Borneo for destinations like Singapore, Thailand, the Philippines, Hong Kong and some local destinations.
Shortly there's a new aggressive airline in Malaysia, which likes to stunt with their fares: Air Asia . It's the RyanAir or Easy Jet of Malaysia.
Air Asia flies from Kuala Lumpur to Kota Kinabalu and Tawau. To make it easy for us (tourists) I have added a pricelist below of all the destinations of Air Asia in Malaysia. You can see how attractive these prices are for us, tourists. A one way trip from Kuala Lumpur to Kota Kinabalu will cost you Euro / US Dollar 40,00. You can make a ticket reservation "online" from all over the world. The website of Air Asia is: www.airasia.com . For flight schedules of Malaysia Airlines you must call the airline company in yourcountry.
Fares of Asia Air:
Kuala Terengganu
from RM 29.99
Penang
from RM 9.99
Kota Bharu
from RM 29.99
Langkawi
from RM 39.99
Kuching
from RM 69.99
Miri
from RM 79.99
Labuan
from RM 79.99
Kota Kinabalu
from RM 99.99
Tawau
from RM 109.99
Buses
Air-conditioned buses run regularly from Kota Kinabalu to most major centers until around noon, after which departures can be scarce, particularly on the longer trips.
Trains
There is a railway between Tanjung Aru just south of Kota Kinabalu, Tenom and Beaufort. There is only one passenger train that departs daily for Tenom and one that leaves on a Sunday for those wishing to travel to Beaufort.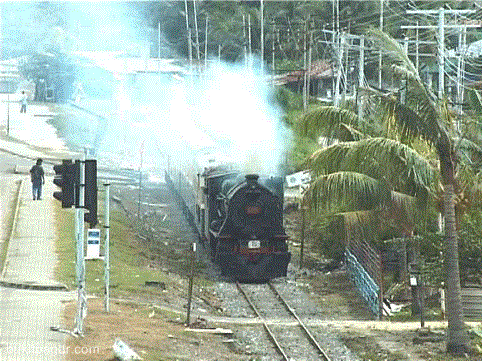 The train to Beaufort
Rent a car
Sabah has an excellent road system and these are generally sealed. However subsidence and washouts frequently occur, especially in the wetter seasons. Vehicles can be hired in various places and is handy transport for getting to places where the public transport doesn't go. Some important car rentals:
Adaras Rent-A-Car Sdn. Bhd.
Lot 03, Ground Floor, Wisma Sabah
P.O.BOX 10570, 88806 Kota Kinabalu, Sabah, Malaysia

Tel: 60-88-216671
Fax: 60-88-216010


Kinabalu Rent A Car
Lot 3.60/3.61, Karamunsing Complex,
P.O. Box 12562, 88828 Kota Kinabalu,
Sabah, Malaysia.

Tel: 60-88-232602/232603
Fax: 60-88-242512


ABAN-D Rent a Car Sdn. Bhd.
Lot 22, 1st Floor, Taman Victory, Mile 4 1, Jalan Penampang, 88300 Kota Kinabalu, Sabah, Malaysia
Postal Address: P.O.Box 293, 88856 Likas, Kota Kinabalu, Sabah, Malaysia.

Tel: 60-88-722300, 722600
Fax: 60-88-721959


Sabah Holidays Travel Rent-A-Car
LOT 20,Ground Floor, Wisma Sabah, 88828 Kota Kinabalu, Sabah, Malaysia

Tel: 60-88-222708
Fax: 60-88-221751


Samzain Rent a Car Sdn. Bhd.
Lot 10. Tingkat 2, Putatan Point, Putatan 88200 Penampang
Peti Surat No. 14384, 88850 Kota Kinabalu, Sabah, Malaysia