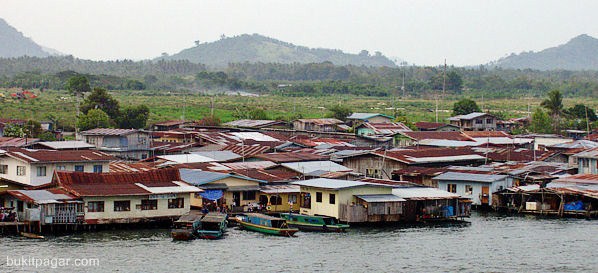 Semporna is the gateway for tourists, before proceeding offshore by boats, to some of the country¡¦s finest diving sites including the world-knowned Sipadan and Mabul Island. The town is located in Tawau Division, in the east of Sabah, Malaysia on the island of Borneo. The population is mainly Bajau, many of whom live in sprawling stilt villages over the water on the outskirts of town. Semporna is located on a pretty bay with good beaches. Pure white sandy beaches, coconut palms and tranquil waters lapping over colourful reefs in the beautiful turquoise waters of the Sulu Sea.

For many years these people (the Bajau)have lived in the ocean on their make-shift house boats.
Probably only in recent years, that they have made settlements into the coastal area, with their houses built on stilts.
The ocean is still their main source of living - fishing, collecting clams and mussels.
Their unique "lepa boat" resembles the modern-day's catamaran vessels, with two adjoining legs for added stability when roughing the wild Pacific ocean.
In the evening, one could witness dozens of "lepa boats" coming home with their day catch.
In the Bajau and Malay language, "semporna" literally means, "perfect". Semporna was founded soon after the British North Borneo Company established Sandakan.

Chinese traders played an important role in building up the economy of this isolated town off the south-east coast of Sabah. Marine products are still the main source of livelihood for the local inhabitants.
The Kaya Pearl Farm started in 1963 covers thousands of hectares, and produces a wide range of pearls for local and international market.
Every year in the month of April, Semporna celebrates with a Regatta Lepa. This is organized by the Bajau Community. It's a celebration of its seafaring or perahu heritage, culture and traditions.
Thousands sail into town in all kinds of boats including the gaily-decorated lepa and jungkong, their traditional colourful boats, to compete for prizes.


Lepa Regatta (2006)