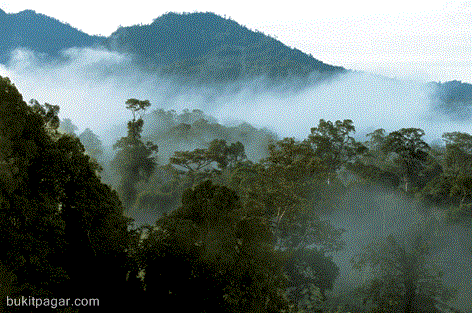 Mulu National Park is Sarawak's largest national park. The majestic Gunung Mulu, rising over a mass of sandstone, 2,376 metres above sea level, dominates the Gunung Mulu National Park.
Mulu's major claim to fame is its spectacular limestone caves. The caves of Mulu command a long list of superlatives including the world's largest cave passage ( the Deer Cave ), the world's largest natural rock chamber ( the Sarawak Chamber ) and the Clearwater Cave , the longest cave system in South-East Asia
The spacious Deer Cave at 1000 meters wide and 120 metres high can contain London's St Paul's Cathedral five times over. The 60 meters high "shower" continuously pouring from the roof near the "Garden of Eden" is one of the many spectacular views within the Cave.
The Sarawak Chamber can accommodate 40 Boeing 747 aircraft.
Most of the cave system is accessible only to proper caving expeditions with specialized equipment. But four well-lit show caves are open daily to visitors. A longboat trip from Park HQ takes you to Clearwater Cave and Wind Cave while a plank walk leads through forest to Deer Cave and Lang's Cave.
Most visitors go to Deer Cave at sunset to watch a black river of three million bats pour out on their nightly forage for insects.


Lincoln's profile at the Deer Cave of Mulu National Park
Mulu National Park is also a paradise for naturalists and adventurers who love jungle trekking and mountain climbing.
Visitors can observe many species of the flora and fauna at the Park. However, it can be quite tiring. The daily temperature is 24 degree Celsius to 32 degree Celsius. It rains most of the time and the humidity is very high, often 99%. Mulu receives 6,000-7,000 millimeters of rainfall per year.
Ever since the 1930's the rich rainforest of the Mulu area has attracted scientists.
Every expedition seems to discover something new - a plant or animal species previously unknown to man, animal behavior patterns, a rainforest remedy, etc.
Although these studies and expeditions have unearthed a mountain of scientific facts, they have barely 'scratched the surface' of Mulu's bio-diversity.
However, this 'barely scratched surface' includes an impressive array of plants and animals.

The park is known to have -

1,500 species of flowering plants
170 species of Orchids
10 types of Pitcher plants
67 species of mammals
262 types of birds
8 species of hornbills
74 species of frogs
281 types of butterflies, hundreds of species of fungi and insects
The spectacular Pinnacles, sculptured and grooved by rain over the centuries rises to a height of 45 meters. It can be reached after a 3 hour climb that is challenging but absolutely rewarding.
A variety of wild orchids and pitcher plants rarely seen elsewhere can be spotted along your trek up the Pinnacles.
The Pinnacles at Gunung Api and Benarat is one of Mulu's main attractions. Virgin tropical forests cover the lower slopes of the area.
After a long day's trekking, mountain biking or kayaking, you can ease those stiff muscles in the Jacuzzi at the Royal Mulu Resort, a five-star hotel that has the park as its front yard.
If you want less luxurious accommodation the Park HQ has air-conditioned chalets and local people run their own chalet and hostel accommodation nearby. The jungle trails have camps with basic huts. But, you need to bring your own sleeping bag.
Miri and Limbang are the two main entry points to Mulu National Park. From Miri, visitors can either fly by scheduled Twin Otter flights operated daily by MAS or take the express boat and motorized-longboat all the way to Mulu.
There is a nominal entry fee for all National Parks in Sarawak. Photo permits are also required. Check with the National Parks and Wildlife Office in Kuching or Miri for the lastest fee structure.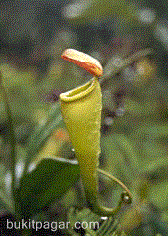 Pitcher Plant