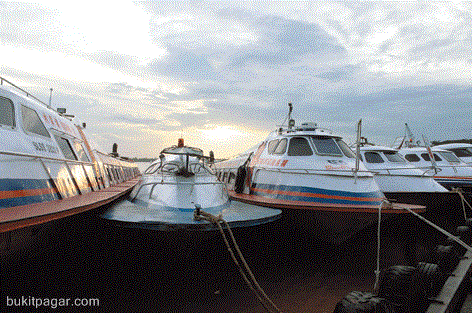 There is no main bus terminal in Kuching. Departure points depend on destination and company used. Sarawak Transport Company (STC) (Tel: 242967/ 242579) serve the Kuching area and south-west Sarawak. Their green and yellow buses depart from Leboh Jawa.
Chin Lian Long's blue and white buses serve the city and its suburbs. Major bus stops at Jln Mosque, the Post Office and Gambier Street. Petra Jaya Transport (Tel: 429418) serve Bako, Damai and Santubong. Their buses (yellow with black and red stripes) depart from the open air market near Electra House. Matang Transport Company's yellow and orange buses depart from outside the Saujana Car Park and go to Matang and Kubah. Regas Transport's beige buses serve the city and its suburbs.
Long distance buses depart from the Regional Express Bus Terminal on Penrissen Road. The most convenient place to buy tickets is at the Biaramas Express booking office (Tel: 429418) on Jln Khoo Hun Yeang (near Electra House). Biaramas also have a 24 hour office at the terminal (Tel: 452139). Other long distance bus companies include Borneo Highway Express (Tel: 619689, tickets also available at Borneo Interland, 63 Main Bazaar, Tel: 413595) and PB Ekpres (Tel: 461277/456261). PB Ekpres also have a ticket counter at the Saujana Carpark (Tel: 244349). Buses to Sibu, Bintulu and Miri often involve a change of bus in Sarikei. Check the classified section of the local press for the latest timetables.
Alway check and double check the departures times and bus numbers!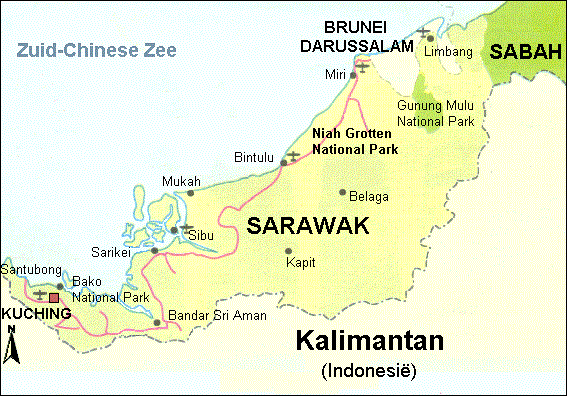 Compare Hotel Prices from all major reservation sites
Search availability for over 100,000 hotels world wide from over 20 hotel reservation websites. HotelsCombined.com - one site to search them all!
There are daily flights of Malaysia Airlines from Kuala Lumpur to Kuching, the capital of Sarawak.
Shortly there's a new agressive airline in Maleisie, which likes to stunt with their fares: Air Asia. It's the RyanAir or Easy Jet of Malaysia. Air Asia flies from Kuala Lumpur to Kota Kinabalu and Tawau. To make it easy for us (tourists) I have added a pricelist below of all the destinations of Air Asia in Malaysia. You can see how attractive these prices are for us, tourists. A one way trip from Kuala Lumpur to Kuching will cost you Euro / US Dollar 30,00. You can make a ticket reservation "online" from all over the world.The website of Air Asia is: www.airasia.com. For flight schedules of Malaysia Airlines you must call the airline company in your country.
Fares of Air Asia:
Kuala Terengganu
from RM 34.99
Penang
from RM 64.99
Kota Bharu
from RM 64.99
Langkawi
from RM 84.99
Kuching
from RM 94.99
Miri
from RM 139.99
Labuan
from RM 144.99
Kota Kinabalu
from RM 144.99
Tawau
from RM 179.99