A haven for swimming, snorkeling, windsurfing, kayaking, boating and fishing.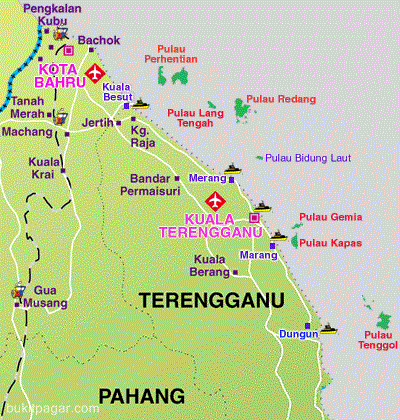 A taxi from Kuala Terengganu airport or the bus terminal costs RM 30.00 per cab for the journey to Marang Jetty. Boat transfer service may start as early as 7:00 and costs RM 25.00 per person (two way).
There are several resorts to choose from on two beaches. Almost every resort has a dorm. They are all in walking distance of the pier.

Kapas Island Resort is near the jetty and is the biggest and most luxurious resort. It has a small swimming pool. The resort has its own boat service to collect you from the mainland.
Tuty Puri , is another luxury place with arguably the most of charm. It has standard rooms with a fan and the rooms have a shower. Also a Dorm. The hotel was b uilt in 1993 and it is set on the prime beach in front of the beautiful white-sands of Pulau Kapas
Beauty island Resort has bungalows with fan and shower. Also a dorm.
Light House is more for the backpackers. It has a the relative isolation on a nice section of beach. Big wooden rooms.
Zaki Beach Chalet is a medium sized resort. Good food. What you may not like : the limited space, whether in the resort or the rooms.
Mak Cik Gemuk a big resort. Off the beach and without charm. Rooms for up to three peoples.
Kapas Garden Resort . A-Frame huts without fan but they have a shower. The Dutch owner has a relaxed bar. It's a small place usually busy with expatriates. The bungalows are correct.
| | |
| --- | --- |
| Zaki Beach Chalet | Kapas Island Resort |
Gemia Island Resort . This resort is built on a 1Km long island (Pulau Gemia) near Pulau Kapas. Well positioned in a secluded part of the island, looking towards Pulau Kapas. You have the choice of three separate and well-defined beach areas to laze away the worries of the world.
I n effort to preserve wildlife, one of the beaches on Pulau Gemia is used as a turtle hatchery. Terengganu is renowned as one of the few places where turtles (including the giant Leatherback) come ashore to lay their eggs. On the island the green turtle is the most common. But the Hawksbill and Olive Ridley turtle are regular visitors. After laying, the eggs are collected and transferred by Gem Island staff to an enclosure on the beach. This protects them from marauding predators such as monitor lizards, crabs and seabirds.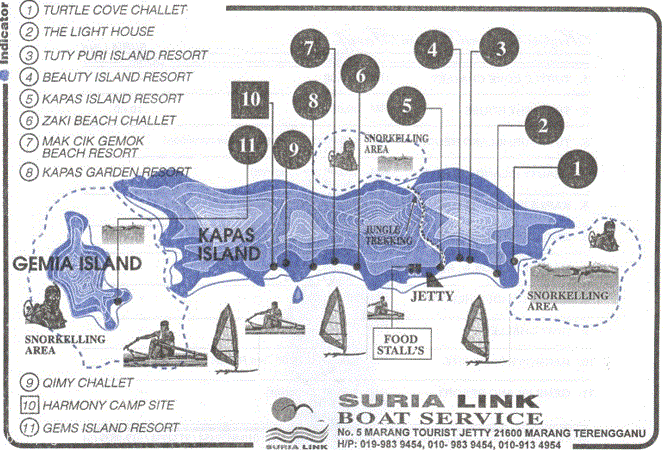 Accommodations

Tel. No.

Fax No.

Kapas Island Resort
09-6171331/332
09-6171578
Tuty Purri Island Resort
09-6246090
03-7166916
Mak Cik Gemuk Beach Resort
09-6245120
09-6181221
Zaki Beach Resort
019-9560513
Beauty Island Resort
09-6245088/03-4218528