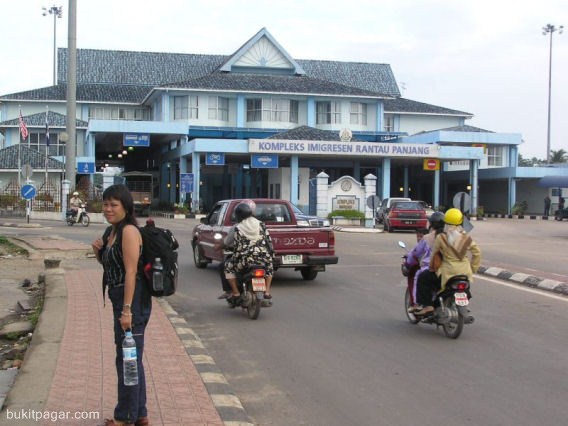 Komplex Imigresen Rantau Panjang
Travellers from the east coast may take a bus or share-taxi from Kota Bharu to the border town of Rantau Panjang. This border town is very popular for shopping because it's a duty free area.
Bus number 29 leaves every ½ hour from Kota Bharu Central Station for Rantau Panjang. It takes about an hour to get there by bus. By taxi it will take half an hour. A short walk across the border, conduct immigration formalities and then take a rickshaw to the train station in Sungai Golok where trains will continue onto Hat Yai for connections onto Bangkok.
Rentau Panjang is named from a long line of houses built during the construction of the east coast railway.
Rentau Panjang means "the long reach" and it's the junction for people of the two countries where the Malaysians do their shopping of consumer goods and enjoy seafood in Thai restaurants, because of cheaper prices, while the Thai tourists make their trip through the border to shop some unusual items at Rantau Panjang town. Duty free shops offer trousers, cigarettes, liquors, chocolates, camera, cosmetics, electrical, gift, pen, perfume and watche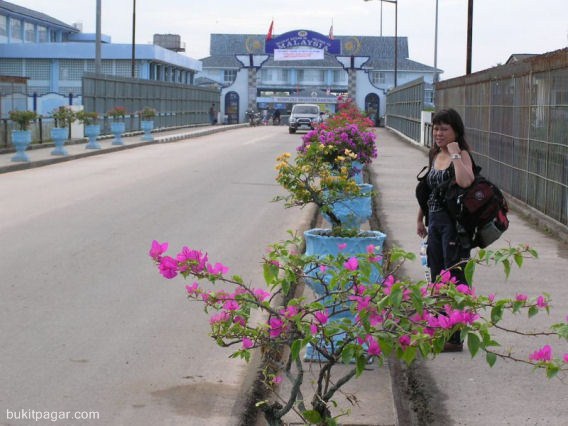 Looking to the Malay customs office
Access by train from Thailand to Malaysia is done by ordinary trains. Connections are possible from both the east and west coasts of Malaysia. On the west coast visitors travelling to Thailand, must get off the Kereta Api Tanah Melayu (KTM) train (Malaysian Railway) at the border of Padang Besar and transfer to a train operated by the State Railway of Thailand, which then goes on towards Hat Yai, terminating in Bangkok.
The travelling time from Hat Yai to Bangkok is about 16 hours.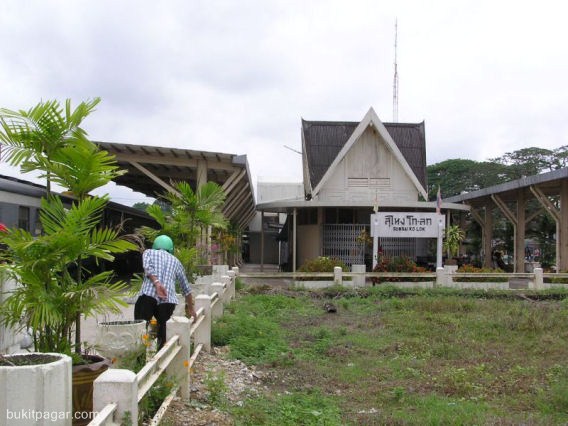 The Sungai Golok Train Station

From the east coast travellers may take a bus or share-taxi from Kota Bharu to the border town of Rantau Panjang (about 30 minutes): A short walk across the border, conduct immigration formalities and then take a trishaw to the train station in Sungai Golok where trains will continue onto Hat Yai for connections onto Bangkok.
When you look at the map, you'll find a railroad track between Kota Bharu and Thailand. But there are only cargo services (train No 703/704) going between Hat Yai to Rantu Panjang via Sungai Golok. However there's a modern station with all regular facilities, an air-conditioned lobby and a staffed ticket-counter. Trains no trains, except goods trains as per demand. Daily not necessarily. When was the station built 1998, they say in 2000.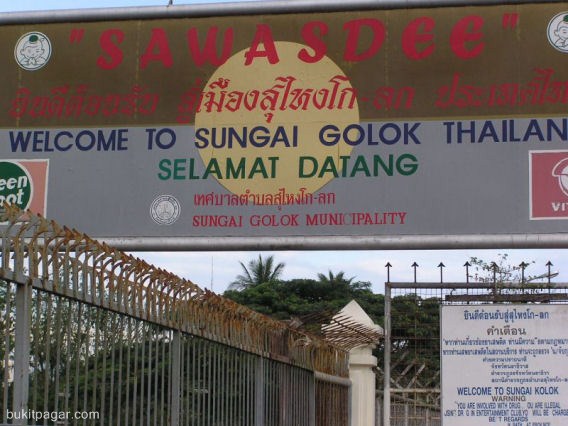 Welcome in Sungai Golok
Thailand / Malaysia the legal land border crossings are:
1. Sadao (T) / Changloon (M)
2. Padang Besar (T) / Kaki Bukit (M)
3. Betong (T) / Keroh (M)
4. Sungai Golok (T) / Rantau Panjang (M).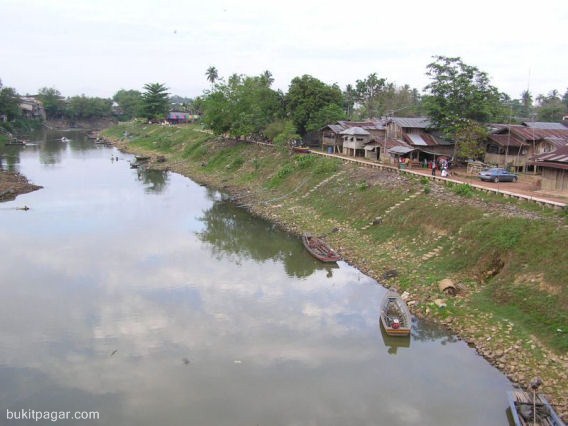 Looking at Thailand
The TV stations once showed clips of so-called rice smugglers walking across the Malaysian-Thai border. According to a retired Police Inspector, Affendi, these people are merely couriers. They are paid a certain amount for every sack of rice they carry across the border.

"I used to be the Inspector of Rantau Panjang," said Affendi. "We didn"t bother about these people walking across the border. These people are not smugglers. They are just couriers earning a living. If we stop them from earning a living this way, then they may resort to other means to make a living, like crime."

True enough, these "smugglers" walk across the border with sacks of rice on their heads right under the noses of the police, immigration and customs officers. And, to the authorities, they are not committing any crime.

"Sometimes we need to take action just to show we are doing our job," said Affendi. "So we tip off the bosses that we will be making a raid that night. We then agree that they will abandon one or two lorries for us to confiscate."

"The driver will of course "escape", " said Affendi laughing.