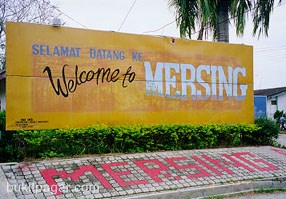 Mersing is nowadays the gateway to several beautiful islands. It used to be a sleepy fishing village. There are still many fishing boats on the river, as well as a local wet market and fishing-related industries.
It lies along the South China Sea at the mouth of the Mersing River. Its predominantly Malaysian residents live in coastal and riverside fishing villages. There are some local tin-mining settlements and rubber estates. An embarkation point for the islands in the Seribuat Archipelago and a regular port of call on the east coastal trade route, Mersing is linked by road inland to Batu Pahat and south to Johor Bahru and Singapore.

Daily buses are arriving from Kuala Lumpur, Johor Bahru, Singapore, Kuantan with tourists. The bus station is at the shopping center "R&R Plaza". That's near the ferry terminal. They hop off the bus, buy their tickets and are leaving for the tropical islands in the South China Sea.
Near the bus station are also a lot of taxi's they will bring you to Kuantan, Kuala Lumpur, Johor Bahru or to the nearest train station in Kluang.
Mersing is a relatively small town with several streets and roundabouts linking the roads, one can just about walk around Mersing town in 1hour. You don't need a taxi for that.
Local buses are going from another station. They will bring you, for example, to Tanjong Leman .
In the town you find travel agents, shops, restaurants (also a KFC). Mersing has a mix of the whole countries main dishes.
Guest Houses, Hotels offer day-tours that include visit to rubber plantations, palm oil plantations, etc. Other popular one-day tour is to visit and snorkel around 4 or 5 of the offshore islands.
In Mersing, there are some, but be alert...not the safest of areas actually in the city at night.

In spite of what everyone is saying: Mersing has an airport. It's not so big. It's just an air strip.
Mostly it's used for sky diving. No planes of Malaysia Airlines are landing there. Even not Berjaya Airlines.

On the photo you can see the air strip very close to the sea. The length of the runway is only 1200 feet. The name of the airport is: Mersing Airport.



Mersing Airport
The beach in Mersing is not for swimming. It is dirty (plastic bottles, junk), shallow and muddy. The nearest beach for swim is 15km North in "Air Papan". This will cost you around RM15.- to get there. In Air Papan it's very relaxing and isolated. The beaches are incredibly beautiful here.
This village of Air Papan is flanked by hills and dotted with many species of trees and palms. The beach is a popular picnic area where the "Pesta Air Papan" (Air Papan Festival) is celebrated on the 1st of May each year. This event has always managed to draw such a huge crowd that the available chalets are almost unable to contain the demand! The festival is fun-filled with food and games! There are also cultural performances.
Asides from the Pesta Air Papan, the beach is a popular spot, drawing lots of visitors to it every weekend and public holidays. Its clear blue waters is definitely a contributing factor to its popularity. When the weather is beautiful, you can even see the outline of other neighbouring islands.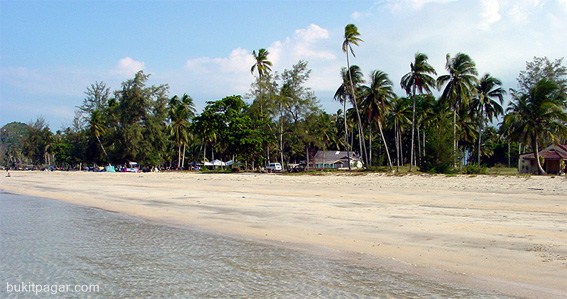 The beach of Air Papan
The ferry's in Mersing are going to:
To Tioman:
passenger boat - slower ferry 11:30 duration 2h
From Tioman to Mersing dep 8:00 (have to stay on Tioman overnight if you want to use this service) one way RM25
speedboat - 7:30, 13:00 duration 1.5hrs.
From Tioman 10:00,15:30 one way RM30

To Singapore:
every day. dep. around 13:00 duration approximately 3h. 200RM ,
(from Singapore dep 9:00) It doesn't run during monsoon.

To Pulau Besar:
(not to confuse with the other Besar island offshore Melakka), departure 12:00
(from P.Besar 10:00) ow RM25, rt RM50

To Pulau Rawa:
Private island owned by the resort. Accommodation from RM100 (sb,f,d) dep12:00 (from P.Rawa 10:00) Book ahead boat fare might be included in the accom. fare

To P.Tinggi & P. Sibu :
ferry leaves from Tanjung Leman

In Mersing is a Seri Malaysia Hotel (best Hotel in town), Timotel and a Embassy Hotel.
There are 3 backpacker style hostels, some rent-a-room style hotels (only 2 rooms in a family's house) and many Chinese style hotels.