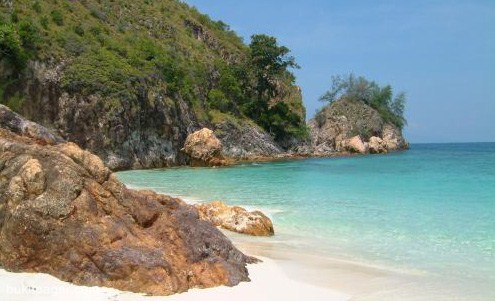 Rawa Island is an unspoilt coral island, with its white sands and swaying palm trees. It's nestled in the crystal clear waters of the South China Sea.
It's located sixteen kilometres off the coast. This beautiful island has white sand, coves, and superb clear waters for water activities. Comfortable chalet-style accommodations are available on the island, and equipment for recreational water activities.
Rawa has its own ferry service to the island daily which can carry twelve people.
The ferry departs from the terminal in Mersing.
It's a relatively small town with several streets and roundabouts linking the roads, one can just about walk around Mersing town in 1hour.
On arriving at Mersing and if you wish to go straight to the jetty, either walk from Restoran Malaysia, which is one of the drop-off points closer to the guesthouses and motels in town or wait till you get to the final destination. Near the Plaza R&R is the Mersing jetty.
This is your gateway to the islands and ferry tickets
If you do not intend to stay on in Mersing.
here accommodation can be arranged also with the various resort and transport offices. Be careful of touts!

You can get a boat from the Mersing jetty and it takes about 1 hour by slow boat or 30 minutes by speed boat. This costs RM35 per way per person.


Boat terminal Mersing
Or you can arrange with the resort for a pick up at Mersing jetty.
Some names of the ferry ticketing offices are: "Sun & Sand Holiday" and "SS Service Agency".
Boat transfer from Mersing is at 12pm. The return time from Rawa is at 10.00 am.
You need to pay for your accommodation before you are transferred to the island.
As you step off the boat feel the magic of Rawa begin to work its spell upon you.
You can catch the sound of the soft tropical breeze, as it whispers through the palm trees and as you gaze on the beautiful white sand beach.
You know that here, for a while, you can truly relax.
Only tourists will come to the island. Maybe it is because this is a privately-owned island which will charge even for a day-trip entry.
In the beautiful blue sea the coral garden is teeming with fish and marine life, from coral reef fish to Pelagic fish, a surprise for many people.
In this marine park giant clams abound, you may see it all but nothing is to be touched.
Preservation, conservation, and a marine park to boot, not even dead shells can be taken. So may admire everything, but don't take anything with you.
Pulau Rawa has secluded white beaches and palm fringed; images which can be found here in Malaysia, to add to the dream blazing sunlight and a cool green, clear lagoon, where fish dart and swim in never ending circles. Visitors on the beach wallowing in the sunlight.
When it is very hot, you need sunglass and sun-block lotion. It's advisable to bring that with you. For drinking water, you have to refill your water bottles several times from the resort only restaurant called "Cafe de Rawa" many times. This is also the only place for your food.
For the more adventurous, you can check out the caves or take a 15 min trek up the hill that overlooks the other side of the island. A pretty interesting view which usually promises a beautiful sunrise.
You'll understand that Pulau Rawa is a gem of an island.
This paradise island is a haven from the stresses and strains of daily life.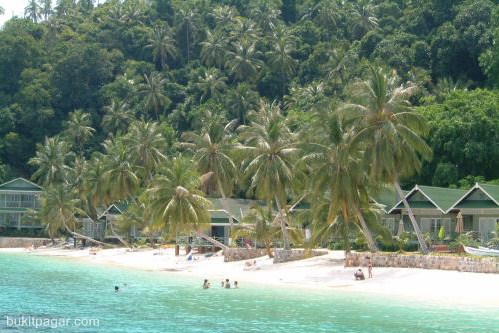 Approximate travelling time : 4 hrs from KL and Singapore, 3 hrs from JB.
Nearest airport is close to Kuantan.