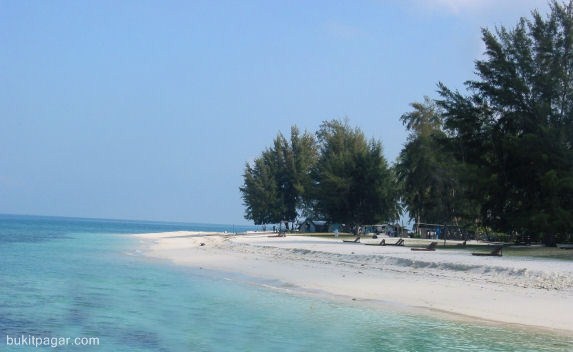 The lush tropical vegetation and endless stretches of clean golden beaches characterise the Sibu archipelago of islands. The group consists of Pulau Sibu Besar, Pulau Sibu Tengah, Pulau Sibu Hujung, Pulau Kukus, and Pulau Tinggi, 12 kilometres off the east coast.
There are clear blue waters and offshore coral reefs. The islands are accessible from the Tanjung Leman jetty, 60 km from Mersing.
The islands abound with water sports activities such as snorkelling, windsurfing, sailing, kayaking.
An beautiful option is a visit to the nearby kelong, where anchovies are caught or head for the villages on the island of Sibu Besar to see how the natives live.
The villagers have kelongs out in the bay where they now rear anchovies and prawns. A few kelongs are used as a fishing retreat. Keen recreational fishermen spend their weekends fishing and bonding with fellow 'inmates' on the platform.
There are simple accommodation on these kelongs, which are for rent.
For some adventure, hike through the jungle trails leading to unspoilt mangrove swamps. Sibu Besar is approximately 6 km long and 1 km wide.


Tourism Malaysia
There are several resorts on the island of Sibu Besar and you can walk from one resort to the other by jungle trekking.
The main stretch of beach has 4 beach resorts of varying budgets and preferences. Sea Gypsy Village Resort, is a favourite with Singaporean expatriate families.
It's so popular, that they started up a kid's centre, where activities are set up for children. Their parents are left alone and they can spend their time elsewhere in the blue waters.
Another famous on the island of Sibu is the Sibu Island Resort. It's a resort with high standards.
It's surprising that Sibu has retained much of its natural beauty and tranquillity.
On the Southern end of the island is a small fishing village with a population of less than a hundred people. The local village continues to take out a living off the seas and a few of the younger generation are working at the nearby resorts for a steadier income and a change of lifestyle.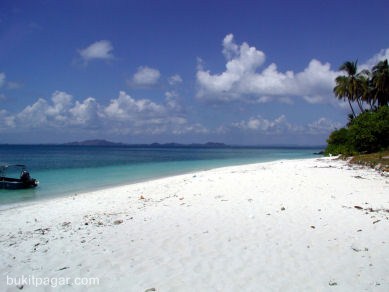 The Beach
How to Get There
The journey by road takes approximately 90 minutes from Johor Bahru to the new ferry terminal at Tanjung Leman. From Kuala Lumpur the drive would be about 5 hours. The boat trip takes about 20 minutes by speedboats. Ferries and bumboats are available. Boat departures can be arranged at any time upon request




Book your room at Sibu Island Resort Hotel Johor Bahru with Planet Holiday and save up to 75% OFF normal room rates. Sibu Island Resort Hotel Johor Bahru maintains the meticulous standards required by travel and tour operators worldwide and has the amenities and levels of comfort you would expect from a hotel in its class

Information/reservation



Rooms from USD64 per night



Directions from Singapore
1.
Drive from Johor Bahru to Kota Tinggi.
2.
Take road to Mersing.
3.
Drive for about 45 minutes, see signpost for "Tanjung Leman, Pulau Sibu" at Tenggaroh Junction.

4.

Turn right - see Guard Post-Drive on for about 10 minutes, follow directions provided by signboards :
"Tanjung Leman, Pulau Sibu".
5.
Turn left at T-Junction, drive for about 10 minutes and turn right into Tanjung Leman beach.