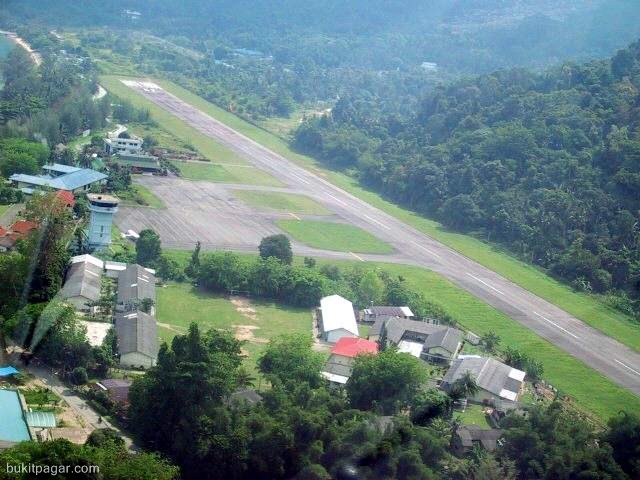 You'll arrive on Tioman in the little kampung of Tekek by plane or by boat. Tioman Island is located off the shores of Johor state in Malaysia.
It's the largest in a group of 64 volcanic islands. The legend goes, that Tioman is the final resting place of a fabled dragon princess who had turned herself into the island. The story is, that the princess was on the way to Singapore from China and had stopped by the area to admire its charms. She became so enraptured with its beauty that she decided not to continue with her journey and turned herself into Tioman, remaining to be a place of shelter and comfort to passing travellers.
The island is about 24 miles from the east coast of peninsular Malaysia, with three of its peaks rising to about 1,000 metres (some 3,000 feet) and visible far out in the South China Sea. Much of its 44 square miles is covered with tropical rain forest. A narrow coastal strip is partly cultivated, and on it are found small villages and settlements, with a local resident population.

T ourists came to sunbathe on its lovely beaches and splash around in its warm, equatorial waters. As scuba diving became a more popular and accessible sport, Tioman also became a popular diving destination stop off. The growing influx of divers led to the Pahang State Fisheries Department establishing a full-time marine park centre in Kampung Tekek where underwater activities are closely monitored by park rangers to ensure that conservation rules are adhered to. These restrictions have contributed towards the conservation of its marine environment. Recent changing climatic conditions have helped as well.

The waters around the island are fairly clear - divers can expect better visibility conditions in other waters, but one can generally expect between five and 10-metre visibility around Tioman. This, however, does not detract from the beauty of its coral reefs, which are a veritable underwater garden of colourful marine life.

When you scuba dive and snorkel on Pulau Tioman, be sure to bring along a camera. The neon hues of parrot fish, butterfly fish, Napoleon fish and silver snappers swimming amid a colourful sea garden are well worth capturing on film. Pulau Tioman's oasis of coral and tropical fish can also be viewed without ever getting wet. Round the island, tours are available on glass bottom boats operated by Berjaya Tioman Beach Resort. The waters around the island also offer plenty of adventure for sportsmen wishing to windsurf, canoe, sail or fish; your choice of catamarans, canoes, sailboats and fishing rods may be easily hired
Diving and snorkelling are generally done around the reefs of Pulau Tulai, Pulau Renggis, Pulau Sepoi and Pulau Labas. For the more adventurous, there are the underwater caves around Pulau Chebeh to explore. The water around the island also offer visitors other fun filled water sports like water skiing and jet skiing with Salang, Juara, Air Batang and Bunut being among its best beaches.
Kampong Tekek is the most important village on the island. Here is the jetty, coming from Mersing or Singapore, and the airport is there. Near the jetty is a row of food stalls beside the road, selling mainly local dishes like nasi lemak, roti canai, fried rice, and drinks.

Over a bridge there is a 2-storey building selling souvenirs and more food and to the left of this is the airport. Just a stone's throw from the bridge is also the islands only clinic.

From the clinic, the road leads all the way to the upmarket Berjaya resort with its own private beach and golf course. But for those of you who prefer a cheaper chalet or room, there are a number of small resorts and hotels on the way.
The health clinic opens:
Monday - Thursdays
8.00am - 1.00pm
2.00pm - 4.30pm

Fridays
8.00am - 12.45pm
2.45pm - 4.30pm

Saturday
8.00am - 12.45pm
Sundays/public hols closed
There are also a few Chinese seafood restaurants on the way to Berjaya Resort, towards the southern end of Tekek. Otherwise, there is always the resort restaurant.
Just outside Pesona Island Resort in Kampong Tekek, there is a "Cheers" Souvenir shop, which sells films, souvenirs, drinks and insect repellent if required. They also rent bicycles at RM25 per day or RM5 er hour and motorbikes for RM85 per day or RM15 per hour. There is an internet cafe just down the road from Cheers souvenir shop which also has colour printers.
There's a new road going to Kampong Juara . The road starts Kampong Tekek. The road looks more like a dried up stream. It's bumpy, it's treacherous and it's narrow. When we went, we took the a 4WD jeep for RM35 per person per way. And a wise choice too. Along the way, we saw people falling off their motorbikes and hurting themselves pretty badly. Although there are motorbike 'taxis' for hire at RM25 per person per way. We suggest that you pay a little bit more for a jeep hire. Only thing is that for jeeps, you may have to wait for some time for seats to fill before they leave. Ask around at the jetty for the jeep to Kampong Juara or call the owner Kennet at 013 - 780 9543.
Another route to Juara would be to hire a sea taxi for about RM150 - RM160 a boat from Salang or Tekek which will take you right to the resorts' doorstep. The going rates fro sea taxis are a little strange - if a minimum of 2 persons charter a sea taxi across to Juara, it'll cost RM60 each person.


Kampong Juara
However, if it is more than 2 persons then they charge RM30 to RM50 per person depending on the numbers. The boat ride takes about 40 minutes to 1 hour from Salang or Tekek depending on the weather.
Getting to Juara is not easy nor cheap though. As single travellers, many actually attempt to cross the Tioman hills via a trek that has been carved into the belly of the island. It's a old open path hacked through the jungle during the 2nd World War by the Japanese.
The trek runs from Tekek to Juara and takes approximately 3 hours to complete. According to travellers the most affordable way round it would be to dump most of your heavy gear at Tekek. Some left their heavy rucksacks with dive centres which they dived with and trekked over with overnighters. The trek can get pretty tricky at some parts where incline can be as steep as 75 degrees. Once you get to the peak, coming down over the Juara side is sort of aided by a concrete path winding all the way to kampong Juara.
GOLF

A beautiful 'playground' is a 18-holes golf course at the Tioman Island Golf Club.
It is built alongside the blue waters of South China Sea.
You can simultaneously witness the swaying palm trees whilst you have a game of golf

Number of Holes

18 holes

Green Fees

Weekdays - RM80.00
Weekend - RM100.00

Facilities

Full set - RM50.00
Shoes - RM10.00
Buggy - RM40.00 (weekdays)
- RM50.00 (weekend)
Putting practice - RM15.00 (15 green balls)

Contact

Tioman Island Golf Club
Berjaya Tioman Beach Resort
Pulau Tioman
Pahang Darul Makmur
Tel : 609-419 1000
Fax: 609-419 1718
Diving trips and lessons can be arranged at Tioman Dive Center (in Tekek and Minang Cove Resort), Bali Hai Dive Center (Kampung Panuba), Dive Asia (Tekek, Salang and Air Batang) en B & J Dive Center (in Kampung Salang).
Tioman has some of the best dive sites in the South Asian region. With 18 dive sites to choose from they can offer exiting dive sites for newcomers as well as more challenging dive spots for experienced divers. In the close range there are12 spots where you can go to on your daily dive trips.
The underwater landscape is of granite rock, a perfect ground for coral growth which provides shelter and food for fishes and other marine life. Come and explore the swim-throughs at Labas, swim along the dense fan coral garden at Fan Canyon or enjoy the soft corals on one of our wrecks.
Tioman offers you a large diversity of hard, soft corals and spounge corals.
GETTING TO TIOMAN
By Air

Berjaya Air (Tel: 603-78468228; www.berjaya-air.com) flies several times daily from Subang Airport to Tioman and back, also on Dash 7 (48-seater) aircraft.

Flight lasts about 55 minutes.

Return tickets are priced at RM448 for adults and RM234 for children.

By Road
(to Mersing point)

Buses are normally at 9 am, 10 am, 10 pm and 11 pm and takes 6 hours to Mersing. The bus' LAST stop is the Plaza R & R which is right next to the Mersing Ferry Point.

By Road
(Driving - to Mersing point)

If you are driving from Kuala Lumpur, a suggested route would be via Seremban and Kuala Pilah, passing Bandar Muadzam Shah onto Rompin and Endau and into Mersing. This drive takes about 5 hours.

Alternatively, take the North-South Expressway, turn off at Ayer Hitam (Toll charges about RM30), head for Kluang then onto Mersing. This drive is shorter and takes 4 hours.

Parking fee outside the ferry terminal in Mersing is RM8 a night.

By Ferry

Many ferry operators operate boats and ferries between Mersing and Tioman several times a day.

Amongst the most reliable, Blue Water Speedboats (Tel: 607-7995696) operates its first speedboats from Mersing at 7.30 a.m. and its last ones at about 4.30 p.m. depending on tides.

Tickets cost RM35 one way. From Tioman, the first boat leaves at 8.00 a.m and the last at about 4.30 p.m. daily.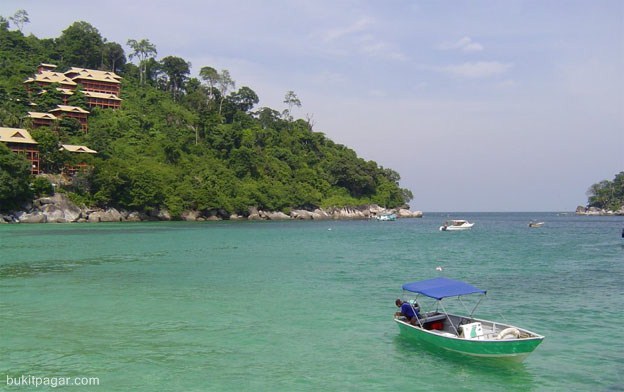 WARNING
In Mersing is a travel office, which "picks up" all tourists for Tioman from the buses. Then they tell you, that you must book at them, because everything is "full" on Tioman. Be careful, because now you're paying far too much for your accommodation, which you have never seen. The chalet you've booked is mostly a disappointment. The boat trip you can book at them, but don't book the accommodation.
There's enough accommodation on the island.
Take only a one way ticket by boat, because then you can choose the boat on your way back to the mainland. The name of this travel agent is: "Island Connection". The people on Tioman don't like that way of dealing, because they can't rent a chalet themselves. Most of the tourists are going to the village of the travel agent.
The best place for travellers in Mersing is the "East Coast hotel".
Are you going to dive with the "Sunrise Dive Centre", then you can get a direct boat to Juara.
Consult for that the dive school.




The Berjaya Tioman Beach Resort, part of the Best Western Hotels chain, is located on beautiful Tioman Island. The island's only international standard hotel is set on 200 acres, and boasts its own 18-hole international championship golf course. Designed using typical Malay architecture, the breathtaking Berjaya Tioman Resort maintains the highest standards of both appearance and service. Set on one of the most scenic islands in Malaysia, with palm-fringed beaches, crystal clear water, and colorful marine life, the Berjaya Tioman Beach Resort also offers many facilities including a very well equipped water sports center.

Information/ Reservation

Rooms from USD 67 per night







Book your room at Japamala Resort Hotel Tioman Island with Planet Holiday and save up to 75% OFF normal room rates. Japamala Resort Hotel Tioman Island maintains the meticulous standards required by travel and tour operators worldwide and has the amenities and levels of comfort you would expect from a hotel in its class.

Information/ Reservation



Rooms from USD 77 per night