JapaMala Resort is an exciting new boutique resort located on Tioman Island, Malaysia.
Created in harmony with its natural surroundings, JapaMala Resort Tioman balances like a sacred jewel between ancient rainforest and emerald sea, radiating a calmness that touches all who visit her shores>
Characterised by a striking blend of exotic Malay, Chinese, Indian, Balinese, Thai and Vietnamese flair, JapaMala strives to accentuate the exuberance of Asian cultures and celebrate the earthy, simple yet vitally creative Asian way of life.
JapaMala Resort aspires to evoke your inner senses by leading you on a unique journey of Asian Experience.
Private, secluded... this tropical paradise lies hidden among 11 acres of natural beauty. Within our grounds you will find a cluster of well-appointed villas and chalets offering commanding views of the South China Sea and surrounding jungle.
Whether a long or short stay, good food shares the importance of a comfortable environment in making a vacation memorable. Guests can expect to relish a gastronomic palate of comfort food. Offers casual, all-day alfresco dining featuring Thai and Indochinese specialties. Part of the award-winning Tamarind Restaurant chain, Tamarind Terrace continues to provide patrons with delicious, quality cuisine. Relax on the beach and enjoy the cool evening breeze while chilling out to some ambient music. The tropical sun goes down even better when accompanied by a predinner drink or two.
Night brings on torch-lit beach barbeques supplied with fresh catches from JapaMala's very own fisherman. If you're feeling a little adventurous, you might like to try catching your own supper off our jetty. Whoever supplies the catch of the day, of one thing you can be sure - fresh seafood is guaranteed!
Regular romantic beach barbeques under the star-studded sky promise to set anyone in a quixotic mood.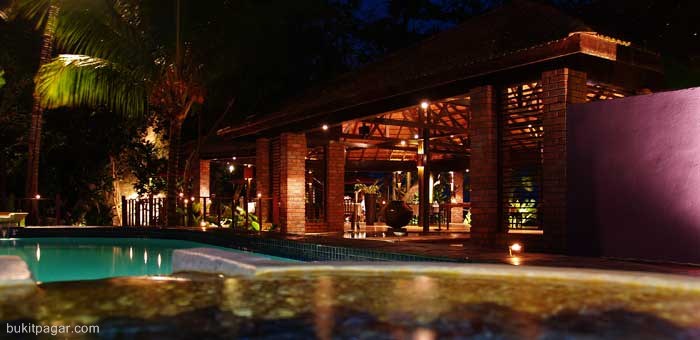 Crystal clear waters grace us. Turtles, fish, shark have all been sighted in our bay.
Tioman is a gazetted marine park and consequently is the center for many of the region's scuba diving enthusiasts. Numerous islands dot this stunning archipelago - each no more than a simple daytrip away and all holding the promise of larger aquatic thrills. Dive courses can also be arranged. PADI certificaion typically takes about 3 days culminating with appropriate certification and the beginning of a new adventure...
The other fun things to do include exploring adjacent beaches and sites by sea kayaks, go fishing during the day or night, enjoy a gourmet picnic on a deserted beach or tread the trails to neighbouring villages through the jungle.
Book your room at Japamala Resort Hotel Tioman Island with Planet Holiday and save up to 75% OFF normal room rates. Japamala Resort Hotel Tioman Island maintains the meticulous standards required by travel and tour operators worldwide and has the amenities and levels of comfort you would expect from a hotel in its class.

Information/ Reservation




Rooms from USD 77 per night