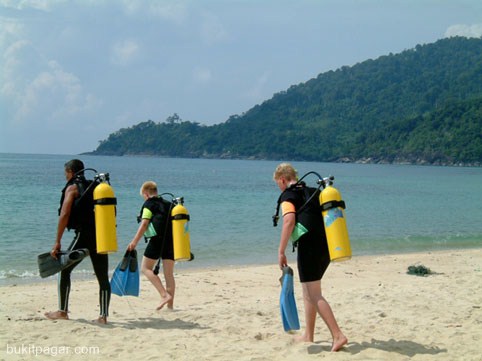 Juara is on the other side of the Island of Tioman. It's unspoiled and there only a few tourists. Daily life in kampong Juara is very easy and there's only one diving school, owned by a man who knows the surroundings and was born in Juara (Tioman).
W ater sports makes Juara important. You can pedal with a canoe in the bay, swim, sunbathe or you can have a fun dive. You can even follow a PADI course.
For most of the water sport activities you'll com to the Sunrise Dive Center (+ 60) 09 4193102) , of which Raman is the owner. Raman has married with Dutch woman and she has splendid coffee and Dutch cheese.
Having your breakfast here, is a very good start of your day
Raman is in Juara born and has already a lot of years an excellent dive school on Tioman.
Raman dives here already more than twenty years and as a result, he knows the waters around Tioman by heart.
If you want to see something special under water, you'll just have to ask him
The dive centre has all Padi-trained instructors. You'll dive with them and they will show you the splendid underwater gardens of Tioman. You see beautiful fish, coral-red and tortoises families.
The Sunrise Dive Centre offers courses at all levels. Of PADI open water course till PADI Instructor course.
The instructors have many years' experience. By their personal accompaniment you insured of the highest security at diving.
Raman knows the great spots in the waters around Tioman by many years' experience.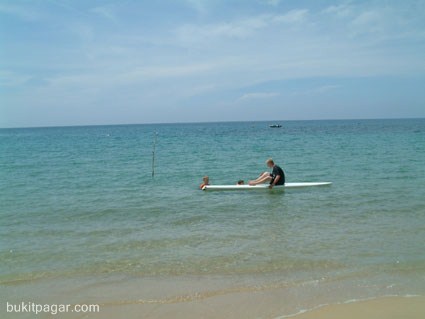 Canoe
The prices:
PADI OPEN WATER
RM700
PADI ADVANCED DIVER
RM500
PADI RESCUE DIVER
RM600
PADI MEDIC FIRST AID
RM250
PADI DIVE MASTER
RM1300
INTRODUCTION DIVE
RM100
NIGHT DIVE
RM90
FUN DIVE
RM70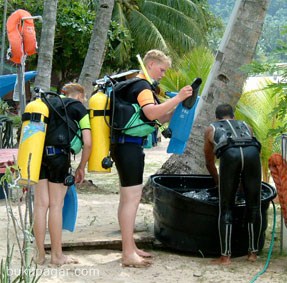 At present you must these prices by 5 parts.
How to book? tel: (+ 60) 09 4193102
When you book a package (minimum 10 persons) at them, this implies much.
Come you with the boat then starts it already with boat travel, which starts in Mersing and brings you to Juara. If you come by plane, everything starts, when you get off the plane. You'll stay in air-conditioned chalets and the meals are included.
The prices of these packages:
| | | |
| --- | --- | --- |
| 3 days, 2 nights | 8 dive | EU 390, - p.p. |
| 4 days, 3 nights | 12 dive | EU 540, - p.p. |
| 5 days, 4 nights | 6 dive | EU 690, - p.p. |
You want to stay a few days more in Juara
Where to stay in Juara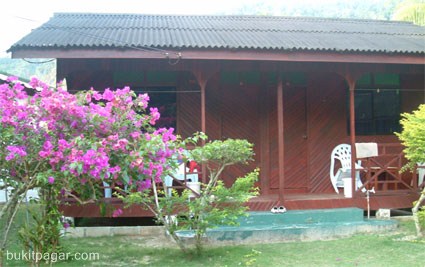 Happy cafe

Airconditioned chalets (10 meters from the beach)
Number of chalets: 3 (everyone for 4 persons)
Price of the chalets: RM 90, - per night
tel: (+ 60) 09-4193137

Juara Beach

Airconditioned chalets (10 meters from the beach)
Number of chalets: 12 (everyone for 4 persons)
Price of chalets: RM 120, - per night
tel: (+ 60) 09-4193188

Juara Mutiara

Airconditioned chalets (10 meters from the beach)
Number of chalets: 16 (for 4 persons)
Number of chalets: 2 (for two persons - Beach view)
Price of the chalets: RM 80, - per night
tel: (+ 60) 09-4193163/161
Friendly Juara: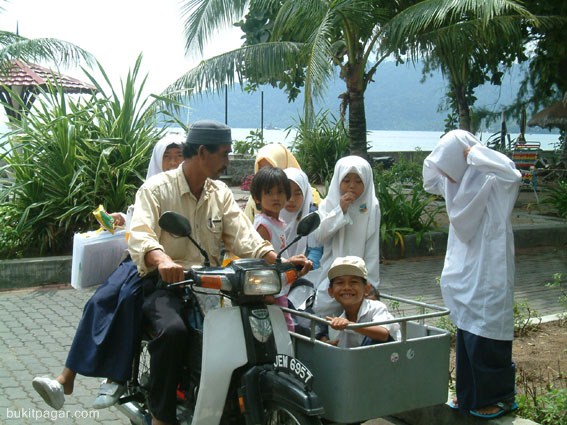 WARNING
In Mersing is a travel office, which "picks up" all tourists for Tioman from the buses. Then they tell you, that you must book at them, because everything is "full" on Tioman. Be careful, because now you're paying far too much for your accommodation, which you have never seen. The chalet you've booked is mostly a disappointment. The boat trip you can book at them, but don't book the accommodation.
There's enough accommodation on the island.
Take only a one way ticket by boat , because then you can choose the boat on your way back to the mainland. The name of this travel agent is: "Island Connection" . The people on Tioman don't like that way of dealing, because they can't rent a chalet themselves. Most of the tourists are going to the village of the travel agent.
The best place for travellers in Mersing is the "East Coast hotel".
Are you going to dive with the "Sunrise Dive Centre", then you can get a direct boat to Juara.
Consult for that the dive school.